STYLE
Spotted! The Coolest Celeb Happenings This Week – June 1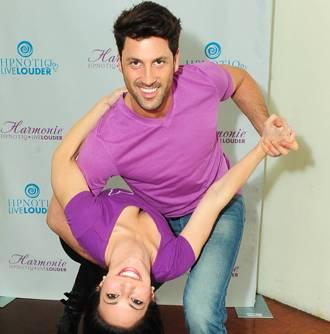 Dancing with the Stars hunk Maksim Chmerkovskiy helped kick off the HPNOTIQ Live Louder Dance Off contest in Los Angeles, CA.
Halle Berry and fiancé Olivier Martinez kicked off Memorial Day weekend by spending the day at well-known celebrity hot spot, Malibu Country Mart on Saturday, May 26. The Dark Tide co-stars indulged in Greek fare at Taverna Tony before perusing the high-end stores hand-in-hand and stopping to pick up a few items at the Henry Beguelin clothing boutique.
Sultry actress Olivia Munn picks up her latest gadget, the new HTC One S phone, at a T-Mobile store in West Hollywood.
Megan Fox was escorted by Husband Brian Austin Green and his son Kassius for a Memorial Day manicure at Bellacures in Studio City, CA. Megan, who used OPI's Pedal Faster Suzi, was pampered while Brian and Kassius chatted in the back of the salon.
Earlier this week, Carmelo Anthony celebrated his birthday post workout with a treat from The Soft Serve Fruit Co. He ordered a large fruitastic with a hot waffle and a large banana split with a hot waffle.
Actress Malin Akerman was seen admiring the gorgeous necklaces from Wings Hawaii while sipping on the hottest new drink, Clearly Kombucha at Kari Feinstein MTV Movie Awards Style Lounge at W Hollywood.
Article continues below advertisement