STYLE
Spotted! The Coolest Celeb Happenings This Week – June 15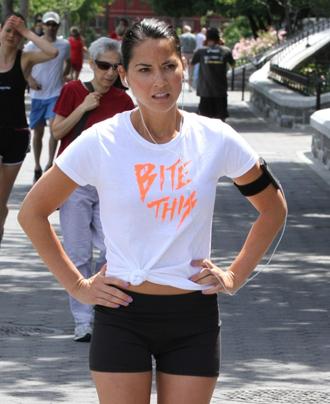 It's the "Attack of the Shoe!" Olivia Munn is spotted in flashy new Reebok kicks while in New York City to promote her new HBO series, Newsroom.
Fergie and Marc Jacobs celebrate getting honored at the amfAR Inspiration Gala sponsored by Voli Ligt Vodka.
Jennifer Akerman releases her video for Silent Killer at Ashley Paige Boutique in West Hollywood, CA. Jen's sister Malin (opposite Tom Cruise in Rock of Ages) gave Jen a huge hug after her video release. They two gorgeous sisters were having laughs over Avion Tequila, while Zico Coconut kept all the celebs refreshed.
Kelly Rowland giving a special performance at Vegas magazine's 9th Anniversary event at Boulevard Pool at The Cosmopolitan in Las Vegas. The star came out on stage to Destiny's Child's Independent Women before going into songs from her solo albums.
New York's popular bar, PDT, popped up in Manchester, TN this weekend for the Bonnaroo Music Festival. Refreshing cocktails like a Don Julio Smoky Tommy kept artists like Thom Yorke and comedians like Aziz Ansari cool in the blistering heat, while Tom Colicchio, a Bonnaroo regular, chilled out in the VIP section taking in the Red Hot Chili Peppers set sipping a Tanqueray Gin Maid cocktail.
Rachel Zoe was all smiles as she enjoyed frozen treats from The Soft Serve Fruit Co. with friends over weekend. She stopped into the store's Hamptons location where she even bought 2 pints of soft serve fruit and a strawberry popsicle for her son, Skyler.
In town for his Chicago shows, Conan O'Brien was spotted dining with three friends at Chef Tony Mantuano's Spiaggia enjoying a three-course meal from the four-star Italian menu. Then, next door at the casual sister restaurant Cafe Spiaggia, guests spotted Elizabeth Banks and a friend enjoy a quite dinner.
Brad Goreski shows New Yorkers how to cash in on fashion at the launch of the eBay Selling Style Studio.
Stars like Tyler Perry and Cote de Pablo traveled home in comfort from the Tony Awards with their new ComforPedic Memory Foam pillows which fold up to a compact easy-to-travel size.
Melanie Fiona attends beauty brand Ojon's launch party for Ojon Rare Blend Oil at The Standard East Village on June 13, 2012 in New York City.
Article continues below advertisement