STYLE
Spotted! - The Coolest Celeb Happenings This Week - October 27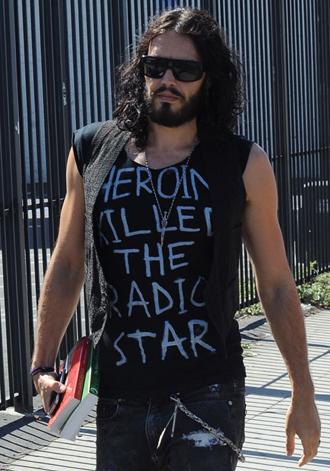 Russell Brand and his beautiful wife Katy Perry were spotted having lunch at Swingers in West Hollywood and Russell was wearing his favorite Sober is Sexy "Heroin Killed The Radio Star" tee to promote that being sober can still be cool.
Alexander Skarsgard was all smiles at the Baume & Mercier party at the 19th Annual Hamptons International Film Festival at the Wolffer Estate Vineyard on October 14. The friendly star was recognized as a "Breakthrough Performer" for his Melancholia Role.
Christina Ricci and a male friend dined on meatballs at Donatella in Manhattan on Monday night. The petite Pan Am Star and her companion also enjoyed the seasonal Italian baked dessert tart, pumpkin crostata.
Kelly Ripa popped into C. Wonder's grand opening to shop. The LIVE! with Regis and Kelly star said she could see the line of customers from her nearby SoHo apartment.
Drew Barrymore and boyfriend Will Kopelman sipped French wines and nibbled on hors d'ourves at Faconnable Beverly Hills's evening of Cote D'Azur while shopping the French label's trendy and refined new collection pieces. Barrymore served as producer on the recently canceled TV series, Charlie's Angels.
Oprah leaves the Georgia Congress Center after the "O You" event sporting her new Danielle Nicole Sydney Shopper exclusively designed for over 5,500 people in attendance. www.Danielle-Nicole.com
Article continues below advertisement