STYLE
Stacy Keibler Reveals Her Guiltiest Food Pleasures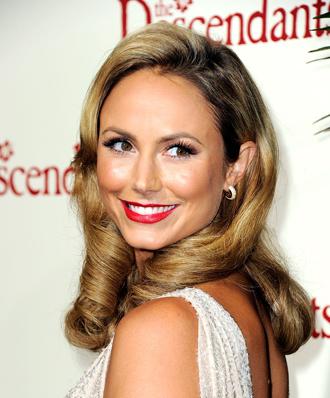 Stacy Keibler is one lucky gal. Not only is she dating Hollywood hunk George Clooney but she has a body most women only dream of! The former pro-wrestler recently took time to share her diet confessions to OK!.
My eating habits in one word"
"Balanced."
Last time I felt guilty about something I ate:
"Thanksgiving. I love gravy. You know it's coming and you know you are going to feel like crap after, but I love it."
Article continues below advertisement
Healthiest thing I've eaten all week:
"A kale smoothie with bananas and agave and proten powder. It's easy and clean. Very vegan, and it's actually tasty."
Least healthy thing I've eaten all week:
"Nothing bad since the holidays! I am trying!"
Last time I skipped a meal:
"I don't — I make sure that I eat every two hours, especially if I am busy."
I'd want my last feast on Earth to be...
"It would be something — anything — covered in gravy!"