STYLE
Stars Stand Up For A Cure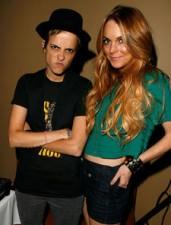 It's a Lohan extravaganza during the Stand Up For A Cure benefit held during Fashion Week at Madison Square Garden in NYC. First, Lindsay runs through posing for photos, and then mom Dina does a quick twirl. She gushes about Lindz.
"My daughter is very honest and very upfront. She is very forthright. That's how I raised my kids to be."
And what does Mama Lohan think of Samantha Ronson and Lindsay together? "I love them," Dina says. "Lindsay's amazing. She's here right now with Sam, spinning."
Article continues below advertisement
Here comes Sam taking a smoke break from d.j. duty just within earshot of the red carpet. Oh really…um, lung cancer/Stand Up For A Cure …interesting. Is that what she means by supporting the cause?
My current fave, Aubrey O'Day, arrives. She's wearing a skinny gold band on her commitment finger, but she's not engaged to her flavor-of-the-week Joe Francis. "It's from my grandmother who passed away," she says. "I wear it because I always want to have love in relationships. It just reminds me that there's so much more in life than b*******. Never compromise for anything you're not completely passionate about. It reminds me in love to not do that."
Ooh, it's a parade of Gossip Girl stars. Chace Crawford begins festivities. He's moved on from Carrie Underwood to a certain Olsen twin. "I see Mary-Kate once in a blue moon."
How does GG's Nicole Fiscella feel about BlackBerrying during fashion shows?
"I don't do it while the models are actually walking, but until they turn the lights down, if I've gotta get something out, I've gotta get something out."
GG's Jessica Szohr shares a beauty tip. "Someone just taught me that you can curl your eyelashes with a spoon, and I was fascinated with it. I'm really excited. You have to try it. You know when you curl a ribbon with scissors? You hold it like that and do it. It's really a neat thing to do so you're not squeezing your eyelid in the car on your way here."
It's wrap!
Get more scoop from the Stand Up For A Cure benefit in the OK! out now. "Miley's New Man" is the cover line.