STYLE
The Background on Rihanna's Major Bling in Her "Pour It Up" Music Video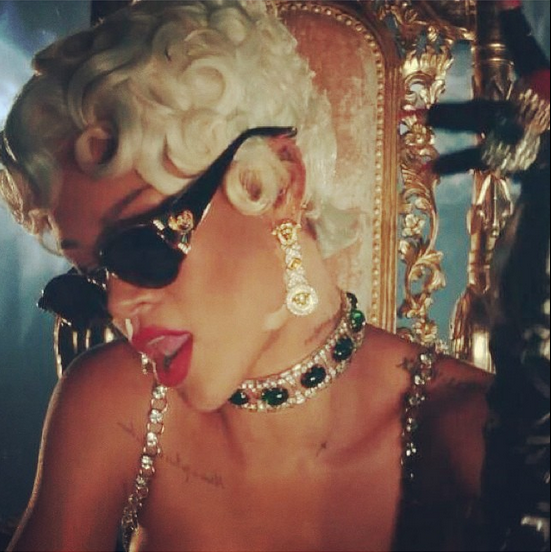 So Miley may have a wrecking ball, but Bad Gal RiRi has vintage, high-profile jewels from Chanel and Versace in her music video. Those obsessed with bling would probably favor Rihanna's recent music vid. The singer changes her statement-making hairdos on the reg—but that's not the only thing she's sporting.
youtube=https://www.youtube.com/watch?v=ehcVomMexkY&w=420&h=315
Article continues below advertisement
Photos: What Does Rihanna Look Like Without Makeup On?
You should have noticed a little sparkle in the aquatic, cavernous, and stripper pole-filled room decked out with a jewel-encrusted throne. The celeb chose to accessorize with rare Chanel and Gianni Versace jewels from Depuis 1924 International. Did you think she had a pair of vintage gold Chanel dangle earrings sitting pretty on top of her dresser?
If you're just dying to know the deets on RiRi's glam, you're on the right site.
We meet Rihanna on her throne. She sticks out in her blonde curly wig and vintage Gianni Versace stunner shades, but the real jaw-dropping moment is when you catch sight of the vintage Gianni Versace Gold Medusa Dangling Earrings hanging from her ears. What? You thought it was the cash being thrown in the air? Please.
A hairstyle change reveals a Rihanna who obviously loves Chanel. And what girl doesn't adore good ole' Karl Lagerfeld in this day and age? Get this—those stunning earrings that are paired oh so well with her RiRi red lipstick retail for $1,600. Pocket change!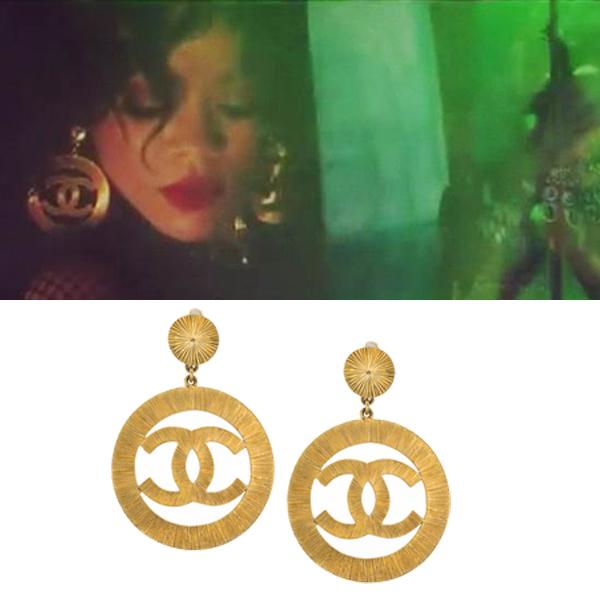 And then there's that layered chain necklace. Which is absolutely everything—and happens to go quite well with a fishnet bodysuit. The chained item is a Chanel creation as well. Surprise? We weren't. It's perfect.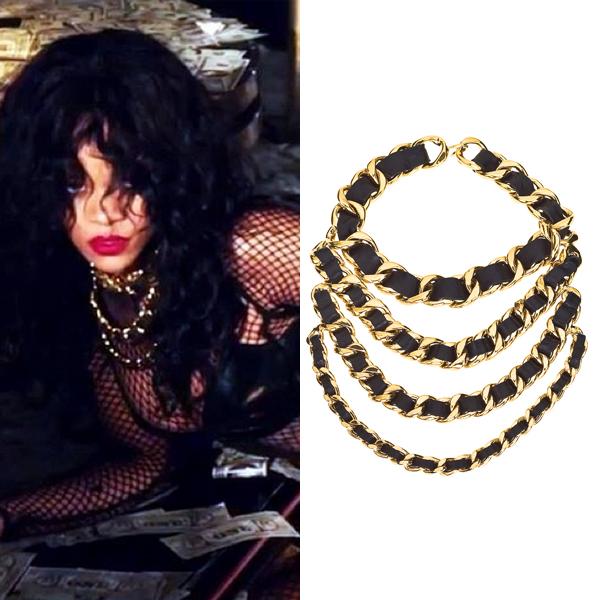 What do you think of RiRi's jewelry choices? Were you shocked to learn of their value? Tweet @OKMagazine and leave a comment below.