STYLE
'The Newlyweds: The First Year' Stars Dish On The Blessings & Pressures Of Marriage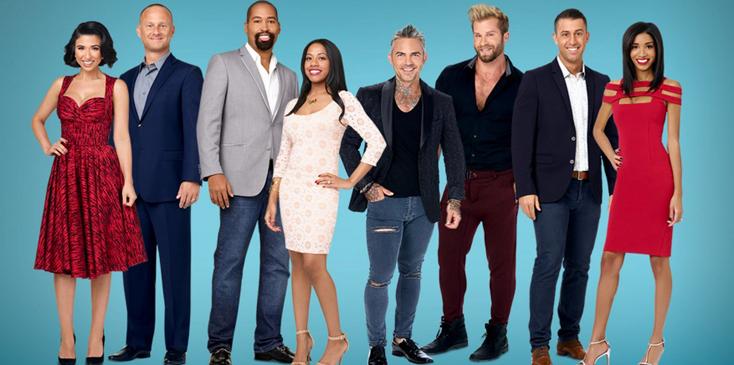 Two couples from Season 3 of – Tara and Rob Radcliffe, and Brandon Liberati and Craig Ramsey – opened up to OK! at Beso Restaurant in Hollywood for a pre-Oscar event in support of Global Foundation with guest DJ Brody Jenner about the blessings that come with marriage and the pressures of shining a spotlight on their love lives.
OK!: Congratulations on your first year of marriage!
Brandon & Craig: You got all the newlyweds here! You're in trouble! Is it a spoiler alert if you're seeing us all still together? We survived the first year of marriage!
Article continues below advertisement
OK!: What's it like being married, how is it different than dating or being in a serious relationship?
Brandon & Craig: For us, people treat us like a real couple now. We're two gay men who got married, but we decided to wait until it was federally legal. We were together for five years – so four years for you is really exciting – and then when we were able to get married we did. Everyone treats us like we're officially a couple now. For example, families react different to us and there's a level of respect, and it really helps us improve our relationship now that we have the support from our loved ones. Marriage equality did that for us.
Tara & Rob: Married life is amazing! It's great having a partner who is also your best friend. Everyday I feel like I'm just hanging out with my best friend. We're literally addicted to spending time with one another; we do everything together. It's weird; when he's not around me I get withdrawals. I go through withdrawal syndrome.
OK!: Have you thought about kids at all? Is that the natural next step?
Article continues below advertisement
Tara & Rob: The show didn't portray this or go too much into it, but I have two stepchildren, and he has three boys.
Brandon & Craig: They're gorgeous and adorable!
Tara & Rob: So we do have kids already. Tara is an amazing stepmom; my boys love her. And I'm obsessed with those boys. Sometimes I cry just thinking about them.
Brandon & Craig: Our plan is to steal their kids! We don't want to say too much until the finale airs next week, but we do discuss adoption. A huge part of our story is our journey with children, and it's been a very dramatic one. Not only our direct story of kids, but also Brandon's sister, Bree, is a lesbian and her and her wife asked me, on camera, to donate so they can extend their family. We definitely show America what it's like for LGBT married families to create their families. It really is showing of what a modern family can look like. We're the new normal.
OK!: Are you fans of Modern Family? That show reveals so many quirks about married life. Would you say it's accurate?
Brandon & Craig: We actually know a lot of them and they've been clients of ours of years. They turn to Craig for any fitness related stuff and they come to me for perfect hair. Our business is called Fit & Fab, which is fitness and Brandon's beauty, which is Pure Health and Beauty. We love that show!
Article continues below advertisement
OK!: I can't imagine what it feels like having cameras pointed at your relationship, especially during marriage, which feels like such a transitional time. Was there any pressure or nerves going into it?
Tara & Rob: Having cameras around was the easy part. That was surprisingly easy. You're just being yourself and that's the beauty of reality TV; you're not acting like anyone else. You're just being yourself and then you look and go, 'Oh, there's a camera over here.'
Brandon & Craig: I actually think it was like therapy. The cameras force you to go through your issues quickly because you are focused on talking about things that maybe would normally take you seven years to face. When the camera is there, and through the interview process, you get to talk about your feelings and you know millions of people are going to see them and feel them. You really have to be honest and congruent in the public eye. Overall, it was a very interesting and worthwhile process. Some thing you're proud of, and for the other things I just tell Brandon to change the channel. Or, I pull out the classic excuse, 'I'm so sorry; I was only acting like an asshole. That's not the real me!' But deep down I love and respect Brandon 24/7!
Check out The Newlyweds: The First Year on Wednesdays at 10 PM EST on Bravo!