STYLE
Travis London's Healthy Chic Eat of the Week!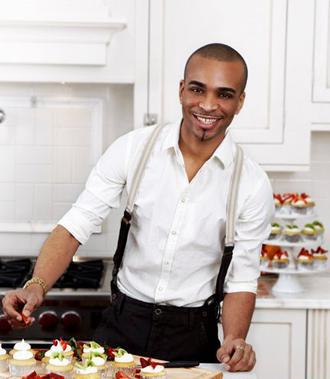 Travis London is all about eating and living well — the healthy and chic way — and every week, he shares tips and recipes right here on OKmagazine.com. This week, Travis shares his recipe for Baked Apples Compote.
"Fill your home with warmth with my Warm Delight Vanilla Bean Baked Apples with Raisin and Almond Compote. Let the wonderfularoma of baked apples in the fall fill your home with childhood memories without adding extra calories and giving you a dosage of Vitamin C," Travis tells OK!.
Article continues below advertisement
TRAVIS LONDON'S HEALTHY CHIC EAT OF THE WEEK — PUMPKIN YOGURT PANCAKES
Warm Delight Vanilla Bean Baked Apples with Raisin and Almond Compote
Serves 4
Ingredients:
4 organic baking apples, cored
1/2 cup sliced almonds
1/4 cup golden raisins
2 large vanilla beans, halved lengthwise, seeds scrapped and reserved
2 Tbs. organic maple syrup
2 Tbs. apple cider
2 tsp. grated fresh ginger
2 tsp. lemon juice
1 Tbs. lemon zest
Freshly grated nutmeg
Directions:
Preheat oven to 400F and place apples in an ovenproof baking dish or skillet. In a small saucepan over medium heat, combine all the ingredients except nutmeg and heat briefly until just hot. Stuff mixture into each apple, sprinkle with nutmeg, and place in oven to bake for 20-30 minutes, until apples are soft.
Chic Tip: For a chicer presentation when serving, serve each apple over a plate sprinkled with cinnamon and top with a dollop of Greek yogurt.
Healthy Fact: The old motto "An apple a day keeps the doctor away" appears to be true as studies have shown apple consumption to be associated with reduced risk of heart disease, cancer, asthma and type 2 diabetes.
For more tips and recipes from Travis visit HealthyChicEats.com and sign up for his free daily newsletter. You can also like Travis on Facebook at Facebook.com/TLTravisLondon and follow him on Twitter twitter.com/TLTravisLondon.