STYLE
Travis London's Healthy Chic Eat of the Week: Chickpea, Avocado, Pea Shoots and Tomato Salad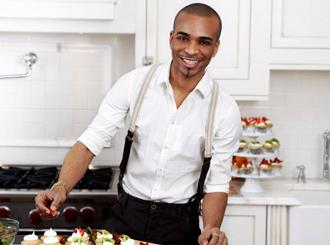 Travis London is all about eating and living well — the healthy and chic way — and he shares tips and recipes right here on OKmagazine.com.
This week, Travis shares his recipe for Chickpea, Avocado, Pea Shoots and Tomato Salad.
Spring into season with my Chickpea, Avocado, Pea Shoots and Tomato Salad. "Since chickpeas are a good fiber source and can help lower cholesterol and improve blood sugar levels, this is one spring treat that will have you geared up for summer," Travis tells OK!.
Article continues below advertisement
TRAVIS LONDON'S CHIC EAT OF THE WEEK: QUINTISSENTIALLY SPRING ROASTED CAPRESE SALAD
Spring Into Season Chickpea, Avocado, Pea Shoots and Tomato Salad
Serves 4
Ingredients:
For Salad:
1/2 small red onion, minced
1 large organic carrot, finely chopped
2-3 organic radishes, thinly sliced
1 1/2 cups cooked chickpeas
4 cups boiling water
1 1/2 cups organic cherry tomatoes, halved
2 avocados, halved, peeled, pitted, cut into small dice
1 cup organic pea shoots, washed
TRAVIS LONDON'S CHIC EAT OF THE WEEK: SURPRISINGLY SIMPLE SPRING PERFECTION PESTO PASTA
For Dressing:
1 tablespoon extra virgin olive oil
1 tablespoon balsamic vinegar
1 tablespoon freshly squeezed organic lemon juice
Zest of 1 organic orange
1 tablespoon organic lime juice
1 tablespoon chopped fresh dill
Kosher salt and ground black pepper
Directions: In a large mixing bowl, place onion, carrot, radishes and chickpeas. Pour boiling water over it and let sit for 2 to 3 minutes to allow vegetables to soften. Drain and set aside. In a large salad bowl, toss carrot/radish mixture with tomatoes, pea shoots and avocados.
To Make Dressing: In a saucepan over medium heat, whisk together all dressing ingredients, season, and allow to simmer until heated.
Chic Tip: For a chicer presentation when serving, evenly distribute salad between four small salad plates and drizzle each with dressing.
For more tips and recipes from Travis visit HealthyChicEats.com and sign up for his free daily newsletter. You can also like Travis on Facebook at Facebook.com/TLTravisLondon and follow him on Twitter at https://twitter.com/TLTravisLondon.