STYLE
Travis London's Healthy Chic Eat of the Week: Effortlessly Simple Grilled Chicken with Seeded Honey-Mustard Glaze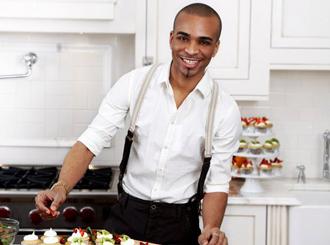 Travis London is all about eating and living well — the healthy and chic way — and he shares tips and recipes right here on OKmagazine.com.
This week, Travis shares his recipe for Effortlessly Simple Grilled Chicken with Seeded Honey-Mustard Glaze.
"Summer is all about effortless easy days and with my Effortlessly Simple Grilled, it's easy to achieve!" Travis tells OK!.
Effortlessly Simple Grilled Chicken
Article continues below advertisement
(Serves 2)
Ingredients:
1 tsb. Olive oil
1 tsp. Dijon mustard
1/2 tsp. kosher salt
1/4 tsp. black pepper
4 skinless, boneless free range chicken breast halves
3 tbs. plain low-fat yogurt
1 1/2 tsp. honey mustard
1/2 tsp. mustard seeds
Directions:
In a medium mixing bowl, whisk together olive oil, Dijon, salt and pepper. Place each breast in the bowl and evenly coat each side with mixture. In a small mixing bowl, whisk together remaining ingredients. Lightly spray grill with olive oil and grill each breast for 6minutes per side, or until cooked through. Evenly coat each side with honeymustard mixture before flipping.
Chic Tip: For a chicer serving presentation after removing chicken from heat coat each side evenly with remaining honey mustard mixture. Serve chicken on a dish with cilantro sprigs throughout.
Healthy Fact: Mustard seeds contain plentiful amounts of phytochemicals called glucosinolates andisothiocyanates. These compounds have been repeatedly studied for their anticancer effects.
For more tips and recipes from Travis visit HealthyChicEats.com and sign up for his free daily newsletter.