STYLE
'Trim the Fat' Campaign: Post-Thanksgiving Gym Workouts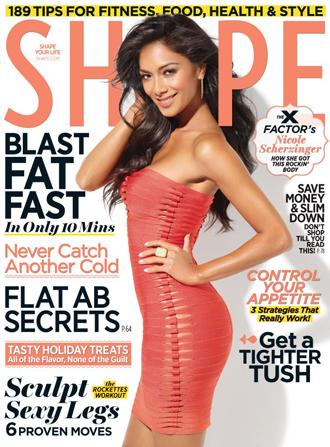 Need to lose the holiday bulge? Shape magazine and Gold's Gym are teaming up for a second year in the "Trim the Fat" campaign and providing free post-Thanksgiving gym workouts and exercise routines.
According to leading nutritional experts, Americans will consume 3,000 calories during Thanksgiving dinner. But Gold's Gym and Shape have crafted a workout plan to help!
Visit www.goldsgym.com/ttf/ and www.shape.com/trimthefat for exercise routines and fitness tips. In addition, you can download a 7-day VIP pass to Gold's Gym and enter to win one of five year memberships at Shape.com!
Article continues below advertisement
"Regular exercise is proven to help prevent weight gain. This is more important during the holidays than ever because research shows that the pounds you put on during this time of year tend to stay put—and that can really add up over the years!" Jeanine Detz, Shape's Fitness Director, said. "Gold's Gym and Shape.com's "Trim the Fat" campaign make it easy to squeeze in a workout anywhere."
This year's "Trim the Fat" menu is below!
• THE TURKEY WORKOUT - Get your chest and wings — ahem, shoulders — in shape.
• MASHED POTATOES WORKOUT - Keep your backside from turning into mashed potatoes by working your glutes and upper legs.
• CRANBERRY JELLY WORKOUT - Fight off cranberry jelly belly with extra abdominal exercises.
• STUFFING WORKOUT - Don't let stuffing come "back" to haunt you. Work out your upper and lower back with this workout.
• GREEN BEAN CASSEROLE WORKOUT - Prepare to scoop up a nice serving of casserole by getting in a tough arm workout.
• SLICE OF PUMPKIN PIE WORKOUT - Get cut like pie with these all-over body moves.
Gold's Gym will also be open to the public for free workouts on Black Friday, Nov. 25 for "Trim the Fat Friday."
For more information visit www.goldsgym.com/ttf or www.shape.com/trimthefat.