STYLE
'Vampire Diaries' Star Kayla Ewell Dishes on Kellan & R-Pattz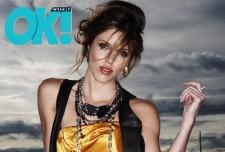 The wild-child alter ego of bloodsucker Vicki Donovan on The Vampire Diaries is completely different from the surfer-girl Kayla Ewell who plays her. In an exclusive interview and photo shoot in the current issue of OK! — on sale everywhere now! — the 24-year-old tries out a new rocker look and dishes on her favorite fanged men — her ex, Twilight's Kellan Lutz and his co-star Robert Pattinson.
Has Kellan given you "vampire tips"?
Article continues below advertisement
It's fun to call Kellan and run ideas by him. He and I dated for years, when we were younger. We're really good friends still. It's so much fun for us, now, to see each other working and still be each other's support system. He's amazing.
What's it like working with co-stars Ian Somerhalder and Paul Wesley?
They're both so sexy! Every day I show up at work and think, "It's not fair that you're this hot!" They're so charming in real life and each has a really engaging personality. Ian is gregarious, the life of the party and the one everybody gravitates toward; Paul is like a secretive, sexy, groovy vampire — he's on the opposite end of the spectrum.
What actor has played the hottest male vampire?
My all-time favorite is Brad Pitt in Interview with the Vampire. He's so sexy. I'm a fan of anything he does, but in that film he's a vampire who doesn't want to feed. There's something super sexy about someone who has to feed to survive but doesn't want to do it.
OK!'S EXCLUSIVE PICS OF KAYLA!
A bit like Robert Pattinson's character in Twilight?
Yeah. He's definitely über-sexy and he doesn't try to be. I remember the first time I met him — I was like, "Oh, hello!" And then he starts talking and that makes it 1,000 times hotter. I'm a sucker for accents and any man who can actually sing and serenade you. He'd do open-mic nights in random bars in Portland, Ore., while they were filming Twilight. I was dating Kellan then and we'd all hang out sometimes.
Article continues below advertisement
Are you dating anyone now?
No. I'm totally single and I honestly love it. Vampire Diaries has been so demanding I don't think it would be smart to have a relationship in my life right now. I get my temporary fix because Vicki is always making out and having sex on the show — and I get paid to do it!
The Vampire Diaries airs Thursdays at 8 p.m. on the CW.
Reporting by Jennifer Birn
FOR THE COMPLETE INTERVIEW, PICK UP THE NEW ISSUE OF OK! — ON SALE EVERYWHERE NOW!