STYLE
What's Trending With Tara: Culottes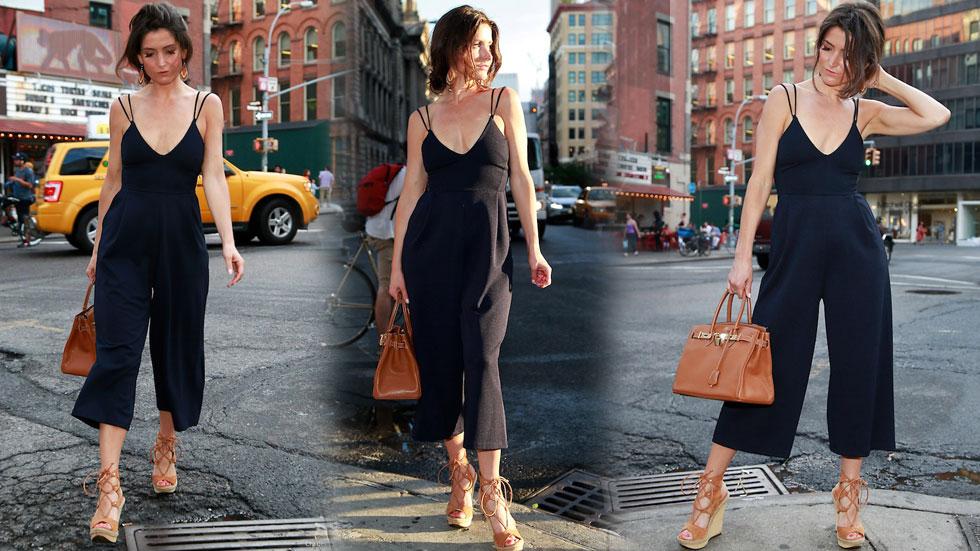 At this point, I am sure you received the memo- culottes are cool. Hip and chic, these trousers are a modern alternative to the midi-skirt. The hem hits mid-calf and the leg is cut wide, so even though they top the style charts, the silhouette can leave you looking squat if not styled correctly. Looking stumpy is not something I endorse, however, I can not deny the freshness of these pants and feel very confident we will be seeing them grace the streets on the most fashionable come fall as well. And since there is so many options out there that wont break the bank, I felt no better time then now, to master the culotte!
Article continues below advertisement
After scouting around, one version I found easy to execute is the culotte/jumpsuit. Because of the nature of a jumpsuit, there is no break in material, pattern or color from head-to-hem so the result is lengthening to compensate for the choppiness of the culotte. I also found that when wearing this type of bottom, if you keep your top half fitted, it balances out the volume in the leg. And more over, if you are daring enough to bare a bit of skin on top, it will offset the awkwardness of the hem and alternatively highlight the exposed skin on the ankle instead.
Rocking culottes right now will instantly give you style game. The fact that they are not quite pants and not quite shorts, makes them ideal for in-between weather, wearing on the city streets and easy transitioning from work to play. I encourage you to hop on board with me and give these trousers a try while keeping these tips in mind:
-Always seek to stretch out your frame and appear taller. One way to do so is by eliminating the breaks in the silhouette. Selecting a jumpsuit version is not the only way to do this. Wearing one color head-to-toe will also do the trick, check out Whats Trending With Tara Monochromatic for more on that.
Article continues below advertisement
-Wear heals, the higher the better. Showing skin around the ankle and choosing one with a pointed toe will help create a longer silhouette.
-Seek out culottes that have a high waist. This way, if you dare to ditch your heels and opt for pure comfort instead, the high waistline gives the illusion of a longer hip-to-toe ratio, i.e. longer legs!
-Try coupling a high-waisted pair with a crop top or a form-fitting top tucked in to accentuate a small waist. This will bring sexy back to a somewhat androgynous look. ;)
Article continues below advertisement
Photo Credit to Toggage
Check out the Instagrams below for more ideas on how you can pull the look off yourself and follow me on Facebook, Instagram and Twitter. For more tips & picks visit TaraBryanStyle.com. If you're rocking a great look, don't forget to give me a shout out by hashtagging #TaraCheckIt for a chance to be featured in my upcoming posts!
https://instagram.com/p/28t3XvG8m9/
https://instagram.com/p/4HlIn5hSrN/
https://instagram.com/p/4CV2ZnDqU6/
https://instagram.com/p/3_xXh_k0YL/
https://instagram.com/p/4GGRhMPWIi/
https://instagram.com/p/38BXZ3nzSN/
https://instagram.com/p/4ArI2BpfHg/