STYLE
What's Trending With Tara: Polka Dots And Gingham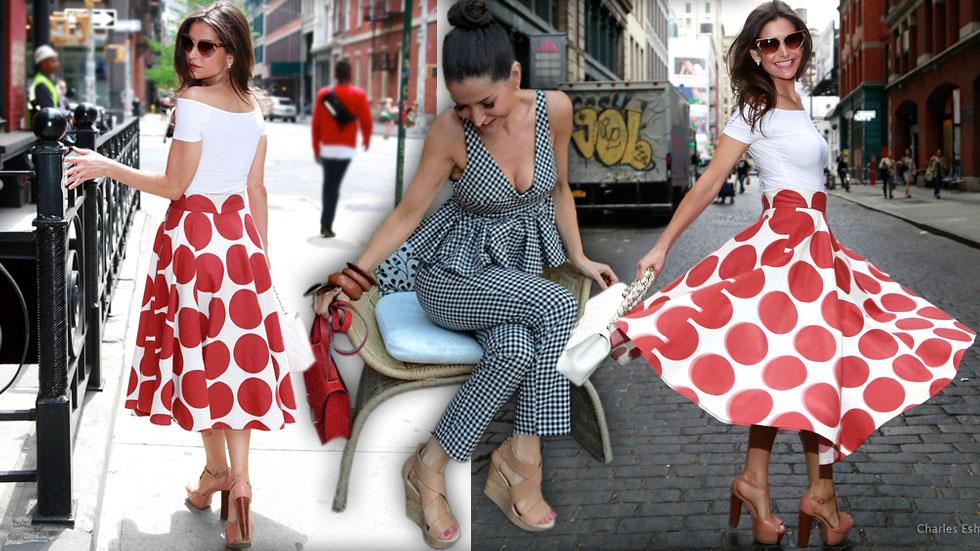 I have to admit, I will always identify with my inner festival-going love child and feel very at home in garb that effortlessly expresses this. So don't hold the following sentiment against me when you see me rocking out in my bell bottom jeans and fringe accessories. With that said, the whole boho chic thing has become so played out. From Coachella to Bonaroo, I am getting very bored of seeing images of belly-baring starlets wearing body bling, distressed booties and exaggerated flowered headbands! They look over-accessorized and—for lack of a better term—sloppy. There is a need to reel things in and get back to the basics. With summer around the corner, what better time than now to highlight two nostalgia-inducing prints: polka dots and gingham.
Article continues below advertisement
These two simple prints have retained their timeless impact over the years and have exploded joyfully onto the spring runways. Whether you choose to channel that all-American prep with a gingham pattern or that timeless lady-like posh with polka dots, my advice is to keep the rest of the look simple and let the patterns take center stage. Keeping your accessories to a minimum and the color palette consistent will result in a sharp, fresh and eye-catching look. If you really want to step up your glamour game, try taking influences from the 50's and 60's by incorporating a Bardot neckline, a tea length skirt and a structured handbag while sporting one of these prints.
As the summer weekends approach, temperatures heat up and the calendar fills. Having easy go-to pieces on hand in your closet is key. For example, going to a bridal shower? Consider doing your best Julia Roberts in Pretty Woman at the polo match in a polka dot dress cut on the bias; conservative and regal yet Richard Gere could not take his eyes off of her. Or for those impromptu backyard BBQs, throw on a pair of high-wasted gingham shorts or capri pants and pair with a men's inspired button-down tied at the waist. This look is simple, classic and sexy at the same time. Or if you are just hitting the beach on your day off, tie a scarf in one of these patterns to your bag. Not only will it come in handy when pulling your hair back if the wind picks up but even in small doses, gingham and polka dots can pack a big punch of style to otherwise plain swimwear. The best part about these prints is even though they have a retro feel, they currently read modern and there is no need to over think them or get fussy with the rest of the look. So throw on some dots or checks, slip into some espadrilles and cheers your peers to a great summer!
Article continues below advertisement
https://instagram.com/p/3O_IS_rSMi/
https://instagram.com/p/2tJqhtza0Y/
https://instagram.com/p/3O6aVhTDYh/
https://instagram.com/p/3CtzUNRrp9/
https://instagram.com/p/2Tn3hzvrfr/
https://instagram.com/p/2C0WNINE5Z/
https://instagram.com/p/3UlsWLyEJT/
https://instagram.com/p/20AkkqK23V/
https://instagram.com/p/1lEA8emhMo/