STYLE
What's Trending With Tara: Winter White Out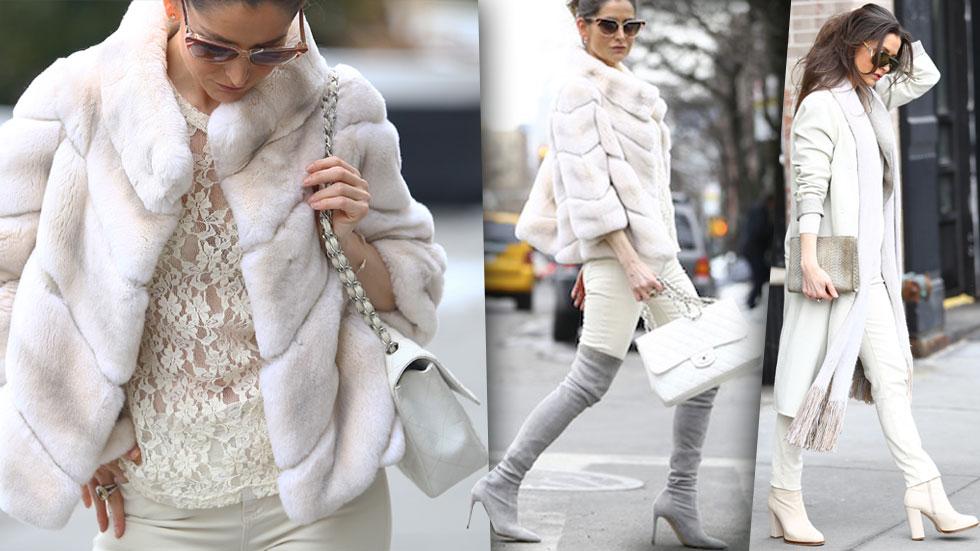 Are you as bored as I am looking through your closet during this seemingly never-ending winter? I've been looking for ways to hit the streets feeling warm but still rocking a fresh ensemble. In an attempt to brighten up these cold, dark days, I decided to bypass my go-to black leather leggings and distressed denim and instead pull out my white jeans. I have to admit, I've never been much of a rule follower. I hope at this point we all know to just ignore the old adage about wearing white after Labor Day — that taboo is over!
Article continues below advertisement
White Jeans to Wear Right Now:
J Brand: Tie-Dye Distressed Skinny Jeans
Alexa Chung for AG: High-Rise Brianna Skinny Jeans
Stella McCartney: Short '70s Flare Jeans
Wearing shades of all white is going to be major next season and I'm not just talking about runway looks from major designers like Ralph Lauren, Mara Hoffman and Fendi; white has been backed by some profound street style, too. Check out the Instagrams below for some examples. Whether you decide to work white into your wardrobe by investing in something new or simply tapping into your current closet, you can't go wrong. For those of you in areas where the March temperatures are still frigid, fabrics like denim, cashmere, wool, silk, leather or even heavy knit cotton will keep you toasty. You will look spring-like, but feel cozy enough to cheer up the remainder of the winter blues.
Wearing head-to-toe white may not be the most practical look, however, layering shades of oyster and cream and everything in between looks chic (and cozy). When trying your white out, don't get caught up in matching shades; enjoy the subtle differences in the fabrics and colors. Varying shades of white looks particularly rich and plush in wintery fabrics with texture. Dressing in a monochromatic shade is slenderizing and elongating reference "What's Trending With Tara - Monochromatic" for more on that. White can be worn just as effortlessly as black and with almost any other color. White pumps and booties have been very hot this season, but pairing white bottoms with black, brown, beige and gray can look equally chic. So don't let your winter shoe game hold you back from this winter white out look.
Article continues below advertisement
My White Shoes Picks:
Rag & Bone: Classic Newbury Booties
This clean and simplistic non-color isn't just for the summer months any more — It is a welcome departure from our tired winter getups.
Photo Credit to Quistyle
Check out the Instagrams below for more ideas on how you can pull the look off yourself and follow me on Facebook, Instagram and Twitter. For more tips & picks visit TaraBryanStyle.com. If you're rocking a great look, don't forget to give me a shout out by hashtagging #TaraCheckIt for a chance to be featured in my upcoming posts!
https://instagram.com/p/zNMLXxumMQ/
https://instagram.com/p/zOQF58Qx5S/
https://instagram.com/p/zFZDcVugX8/
https://instagram.com/p/zDa1Vfxt61/
https://instagram.com/p/yrKhd7gUJv/
https://instagram.com/p/zOQvT-runy/
https://instagram.com/p/zOQbDjrqVy/
https://instagram.com/p/zTnNVhqDia/
https://instagram.com/p/zdP-Z3l_sj/
https://instagram.com/p/zMF9etlANK/
https://instagram.com/p/zcrUT8EGfn/