STYLE
What's Trending With Tara: Off-The-Shoulder Tops And Dresses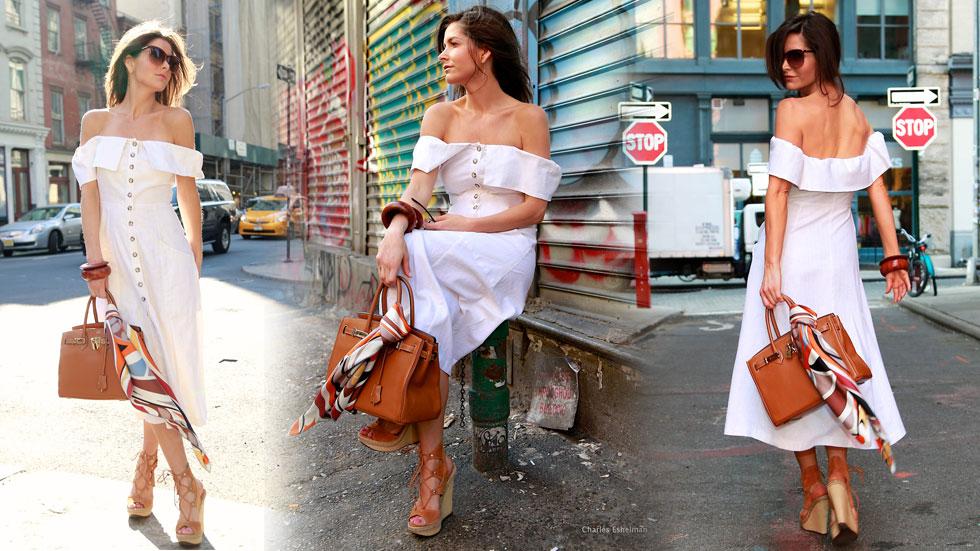 Summer is approaching and there is no denying that when it comes to the fashion of the season, it is all about showing some skin to win. Whether it be a skirt with a high slit, a deep plunging neckline or a see-through overlay, displaying some flesh will instantly spring you into the now. This is a tricky notion to execute with grace, as you must create a delicate balance between skin and fabric. My advice is to choose only one area to flaunt and keep the rest of you under wraps. This is why I am all over the off-the-shoulder designs that are in stores now. There is nothing sexier than baring your décolletage and the tops of your shoulders with an otherwise conservative silhouette, while maintaining that ladylike poise.
Article continues below advertisement
As you ease your wardrobe into spring/summer, these tops and dresses will become your best ally. I have to admit that after such a harsh winter, I don't exactly feel as though my figure is totally summer ready yet, which is why I will gladly push aside last season's crop tops and opt for a shoulder-baring silhouette instead. Consider this: Even if your arms are not quite sculpted the way you want or your tummy isn't as flat as it could be, these pieces will draw the eye up to your face and signal the notion of being naked, all the while offering coverage in those delicate areas. (Note to self, ladies: The subtle alluring nature of these garments make for a great date night outfit choice!)
As we move further into the season and tempetures start to rise, take note that there are many options that are airy and relaxed with a cool vibe, to help you really embody that summer spirit. Another great thing about this season's key silhouette is that it is not limited to boho dresses or peasant style tops. Options range from girly to sleek to powerful. For example, try pairing a form-fitting ribbed off-the-shoulder top with a high-waisted A-line skirt, giving a nod to the 1950s while still remaining totally up-to-date. Or get creative with the proportions of your separates by coupling a fit-and-flare pant with a tunic style off-the-shoulder top; the bareness of your décolletage will offset the extra fabric in top and the pant. Check out my favorite pieces in stores now and reference how the ultra fashion-savvy are executing these looks in the Instragram pictures below.
Article continues below advertisement
https://instagram.com/p/1-5-_4QWSl/
https://instagram.com/p/2gk8j4Icnn/
https://instagram.com/p/2WJPiOxrjA/
https://instagram.com/p/2S1RWanmW4/
https://instagram.com/p/2R8yPjvbx0/
https://instagram.com/p/2gQgoAn58F/