BABIES
Breaking News: Britney's Family Stages Intervention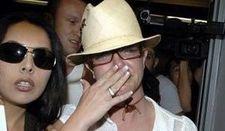 OK! has just learned that the reason Britney Spears' mother, Lynne, and her little sister, Jamie Lynn, flew into L.A. late last night from Kentwood, La., was to stage an intervention with the disgraced pop star. Making things even more interesting — Brit's ex-hubby, Kevin Federline, has just arrived at her Malibu house to take part in the proceedings.
This all comes after yet another bizarre evening of hard partying and erratic behavior from Britney. Early Friday evening, Brit, producer JR Rotem and hanger-on Sam Lusty spent hours driving around Los Angeles and Beverly Hills being followed by a caravan of paparazzi, until utlimately ending up at the posh Peninsula Hotel, where Brit had holed herself up for a few days earlier this week, following the decision by Court Commissioner Scott Gordon to give full temporary custody of her two young boys to K-Fed.
Article continues below advertisement
Around 2 a.m. PST, the three louseketeers exited the Peninsula and drove, screaming at each other the whole way, to Britney's gated community, The Summit, on Mulholland Drive, at which point Brit inexplicably gave her two traveling companions the boot at the gatehouse.
But the night was nowhere near being finished. A few minutes later, Brit comes roaring down the hill to The Summit's entrance, where she begins to rant incoherently that her home had been broken into. Her driving was so erratic that she pulled up on a curb, damaging her tire so badly that it required repair — which a friendly photog was more than willing to do for Brit.
Eventually, officers of the law arrived and went up to the house with Brit, JR and Sam, before returning approximately 45 minutes later. No word on whether her house was truly broken into, though all signs point to "no."
So, in the early morning hours, Brit and her pals packed back into her newly re-tired car and headed up the coast to her Malibu home — where her mom and little sis had just arrived.
It is not yet known whether Kevin brought the babies with him.
More details to come!