NEWS
Jesse McCartney Leavin' Love Behind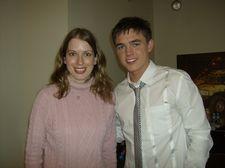 split from girlfriend Katie Cassidy in 2007, and used the breakup for inspiration for his new album Departure. His hit single Leavin' is ear candy for those who need to get on with their journey.
"I wrote most of the record about my relationship with women and where I've been the last few years as far as the relationship I was in," the 21-year-old singer tells me. "It's about being with them and without them. I'm still deciding what I like better, really. I've been single for the last year, and getting used to that. Getting back into the dating game has been interesting."
Article continues below advertisement
He reveals that the most personal song on his new album is Not Your Enemy.
"It wasn't about me but it's about an outsider looking in," he says. "A good buddy of mine was dating this girl – he hadn't dated anyone in a really long time – and he was falling for this girl. She was very guarded. She had come out of a relationship that just wasn't so great. She got burned pretty badly in a prior relationship, and he was so smitten and in love with this girl. It ended in tears. It just didn't happen because she was too afraid to let him in. So I wrote this song called Not Your Enemy from the male's perspective of what it feels like for him to have her shut him out even though he wanted her to meet him halfway. He wanted to be there for her, but every time he moved in, she shut down."
Now that he's mended his broken heart, Jesse is looking for individuality in a special someone.
"It's different with everyone," he says. "I've met some really laidback, gentle souls and then I've met the really brassy New York chicks. It's all great. As long as they're comfortable in their own skin, that's the most attractive thing."
He doesn't let an engagement ring stop him from declaring his love, either.
"I'm digging Megan Fox. I know she's engaged to Brian Austin Green, but she's got that confidence, sexy James Bond girl thing about her that I'm really into."