VIDEOS
'She Was In A Mood' – Irked Morning Show Hosts Call Out Cara Delevingne For Her Poor Attitude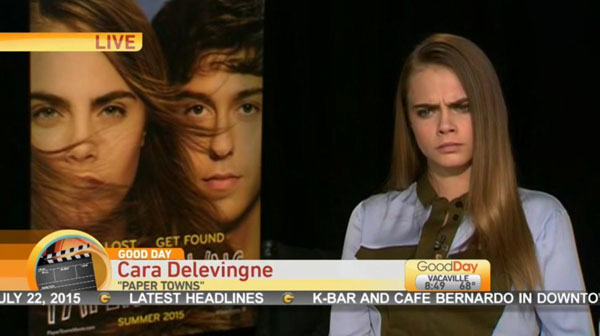 It was not a good morning for Cara Delevingne and the hosts of "Good Day Sacramento" were not going to let her forget it.
The model-turned-actress, 22, has been doing promo for her upcoming movie Paper Towns for weeks and the morning show hosts did not appreciate her attitude or sarcastic wit.
The female anchor started off introducing her as "Carla" and then asked if she was a fan of the books.
VIDEO: WATCH Selena Gomez And Zedd Being Adorable With Cara Delevingne
Article continues below advertisement
Cara, being playful replied, "Uh, no I never read the book or the script I kind of winged it." Then continued with praise for the author, John Green, for his incredible work.
A few moments later a third anchor jumped in nitpicking Cara asking, "Are you exhausted?" Suggesting that her attitude was lackluster compared to interviews a few weeks ago.
"I'm not any less excited than I was a couple of weeks ago," she replied with a confused look on her face.
Do you feel the morning show hosts were too harsh? Tweet us @OKMagazine or let us know in the comments section below!