VIDEOS
Congrats to the Happy Bride! Bobbie Thomas Ties the Knot!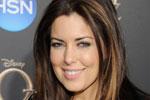 Bobbie Thomas is a married lady! The Today Show style editor, who wowed us with her wedding planning abilities, officially wed her fiancé. Today reports that the celeb's nuptials were held on Friday! But did you know the celeb actually got married at Kathie Lee Gifford's house? The Today Show documented the whole thing with snapshots of the momentous event.
Photos: High-Profile Baby Bumps to Watch
She's a style editor, so, of course, her wedding was absolutely beautiful. We got to chat with Bobbie about all the little details before the big occasion. She filled us in on her sweet romance and taught us how to use Pinterest as a wedding planning tool. Yes, the Pinterest pinning skill is a good one to hold in your event-planning repertoire.
Article continues below advertisement