VIDEOS
Get a 'Mortal Instruments' Makeover With This NYX Parallel Worlds Makeup Collection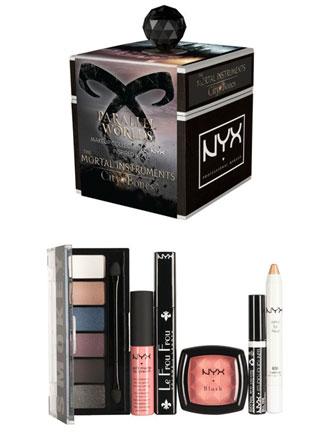 Not as brave as the supernatural-seeking Lily Collins in Mortal Instruments: City of Bones? There's a different kind of shadowhunting for you, and it's a box of beauty. Inspired by the new thriller that's due out in August, cosmetics brand NYX created a makeup collection that's got a bit of a glamorous jolt—don't worry, we're not talking about a bunch of well-dressed ghosts.
Article continues below advertisement
The Parallel Worlds Box is filled with products that make recreating Lily Collin's fresh-faced look from the film's trailers super easy and doable. It includes a liquid eye-liner, a matte lip gloss, (perfectly on trend, eh?) mascara, blush, an eye pencil, and an eye shadow palete of greys, purples, cream and biege.
The brand also throws in a step-by-step on how to get the movie's looks. Ghost-hunting with a smokey eye is no problem! You've got plently of time to practice before the movie comes out.