VIDEOS
Has Amanda Bynes Hit Rock Bottom? See the New Video That's Upsetting Her Fans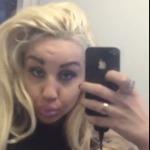 A newly blonde Amanda Bynes has posted a pretty unbelievable video to Telly.com titled "I'm Sucking On A Sour Patch Kid Listening To Music Getting Ready For Tonight :D."
We're not sure if unbelievable is good or bad in this case, but Amanda's fans certainly have strong opinions.
Watch: See What Amanda Bynes Has to Say to Family and Friends
"Ugh. I can't stop watching this," Tellymel writes on Telly.com. "This is so sad. Very reminiscent of Anna Nicole in clown face. If Britney's dad was able to step in, there's no reason why Amanda's parents can't. Tired of reading they can't because of her age. HELP THIS GIRL! THIS IS SCARY AND SAD!!!!!"
Article continues below advertisement
"Whoa! That video scared me," agrees Brittany Romeo. "I've never seen anyone that far gone. Seriously, get some help. Listen to your family. We all want to see you rise above."
Watch: Amanda Bynes Reaches Out to Drake for the Second Time
But some see Amanda's onscreen antics as fun and no big deal.
"You're cray I love u tho baby keep doin u," says Emilyyy__x0.
Perhaps Kat Dujka raises the best point when she asks, "Why would any of us want to take a video of us sucking a sour patch kid?"
What do you think of Amanda's video? Is it a cry for help or just for fun? Weigh in on Twitter @OKMagazine or in the comments section.