VIDEOS
Lance Bass And Michael Turchin Dish On Marriage, Babies And Their Wild Bachelor Party Before Lance Loves Michael Wedding Special Airs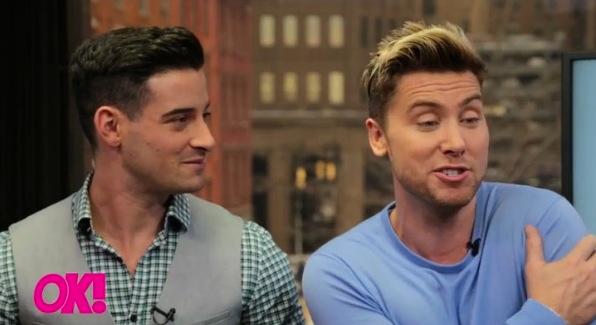 Newlyweds Lance Bass and Michael Turchin stopped by the OK! magazine studio to dish on married life, babies and their wild (and raunchy!) bachelor party ahead of their wedding special, Lance Loves Michael: The Lance Bass Wedding.
"It's nice. It reminds us every day of the best day of our lives," the 35-year-old former 'N Sync member said of the special, which airs on E! on Feb. 5.
The 90-minute program will show behind-the-scenes footage during the wedding planning process—which did not turn these two into groomzillas!—as well as the big day itself and their wild bachelor party!
Article continues below advertisement
"We had a surprise bachelor party," Turchin said. "There were a lot of strippers and crotches."
"That's the only part of the special that I will be cringing when that is shown because I know my grandparents will be watching!" Lance joked.
But it's more than just a televised celebrity wedding and a video documentation of their special day! Lance and Michael's nuptials will be the first gay celebrity wedding ever to air on television.
"We're honored," Lance said.
Watch the video above to find out when the pair plan to start their own family and Lance's thoughts on whether fellow 'N Sync bandmate Justin Timberlake will make a good father! And be sure to tune into Lance Loves Michael: The Lance Bass Wedding Thursday, February 5 at 8 p.m. on E!