VIDEOS
Late Night Booty Call: We're all Drunk on "Blurred Lines"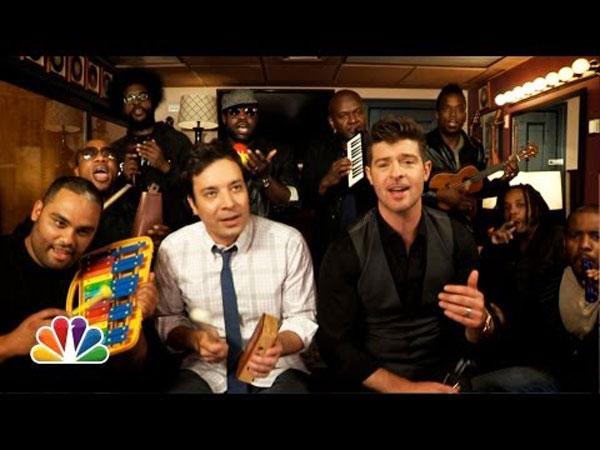 Look, the night is only so long and there's only so many celebrity boyfriends to hook up with.
This week on Late Night Booty Call, an awful lot of handsome men stopped by the late night talk shows to chat about everything from drinking, Smurfs, karate and even more drinking.
Let's not waste any time, and get right to the best thing we've all seen in months, and a clip that set the entire Internet on fire today, it's Robin Thicke singing "Blurred Lines" with The Roots and Jimmy Fallon using children's instruments. Yes.
Article continues below advertisement
Article continues below advertisement
OK! News: Can't make it to Lolla? Listen to these bands at the gym!
We started on a smile and let's end on one too. I'm giving an honorary Late Night Booty Call nod to Tyra Banks because she is a girl crush and because this is hilarious.
hulu id=ea1hk8wkmerll64uht_mnq width=512
What was your favorite interview of the week? How many times did you watch that "Blurred Lines" video today? Share all your comments with us below or on Twitter @OKMagazine.