VIDEOS
#ManicureMonday: Flags and Fireworks Nail Art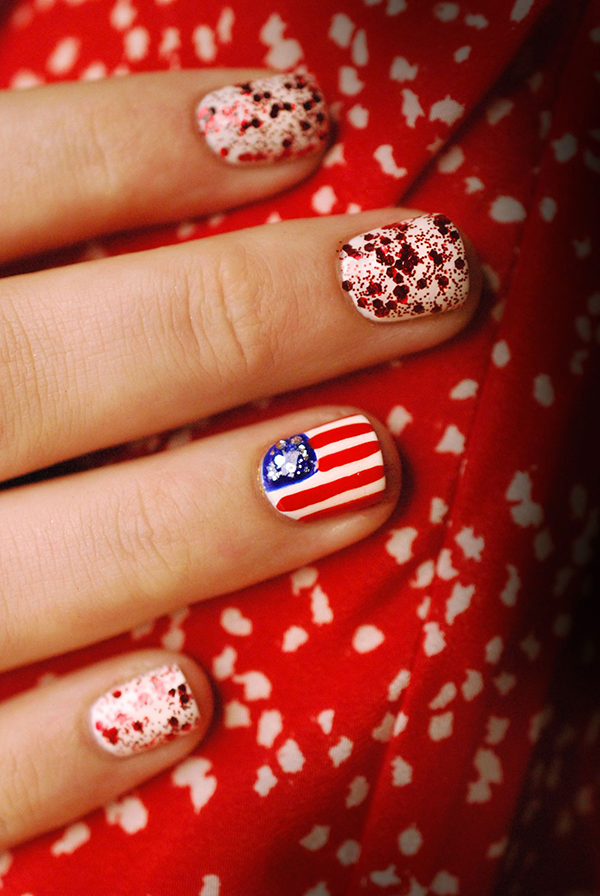 Don't even think about showing up to your 4th of July bash without some super patriotic tips! ORLY manicurist Elyse Piwonka created this amazing red, white, and blue design and we've got the deets on how to recreate it at home:
Try Kiss Nails This #ManicureMonday
Flags and Fireworks
Left Hand:
1. Paint 2 coats of White Out ($8.50) on all nails with the exception of your thumb.
2. Paint 2 coats of In the Navy ($8.50) on your thumb.
Article continues below advertisement
3. Beginning at your pointer finger, use Fiery Red ($8.50) to create the lines going towards the nail tip. Do this step on each nail working towards your pinky.
4. Using Platinum Glitter ($5), create 3 stars on the thumb.
5. Once all layers have dried, seal with Glosser ($10).
Right Hand:
1. Apply 2 coats of Haute Red ($8.50) to all nails with the exception of the ring finger as this will be your fireworks accent nail.
2. Apply 1 coat of Spazmatic ($10) on top of the Haute Red.
3. Paint 2 coats of Whiteout onto your ring finger.
4. Once dry, begin by drawing half moon shaped lines using Fiery Red to create the firework effect following the pattern in the image.
5. After the Fiery Red has dried, create the same pattern using True Blue ($8.50).
6. Add in Platinum Glitter on top of the fireworks to create a shimmering effect.