VIDEOS
OK! Exclusive: Dave Bradberry From 'Below Deck' On Why The New Bravo Show Is 'Jersey Shore' Meets 'Housewives' Meets 'Downton Abbey'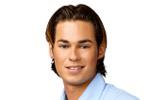 Bravo is just killin' it these days with the new reality shows. First there was Married to Medicine, then Princesses: Long Island happened and now, Below Deck premieres on the network next week. The show follows 8 crew members as they work aboard a yacht for the rich (and sometimes famous) that travels around the tropics for weeks on end. Not a bad gig, eh?
OK! Exclusive: All Our Real Housewives of Orange County Interviews In One Place
Article continues below advertisement
And we hopped on the phone with one of the show's standout stars (and resident hotties), Dave Bradberry. Keep scrolling to see what Dave told us about the craziest requests he's gotten aboard the ship, his favorite Bravolebrity of all time, his dream celeb clients and why he describes the show as a hybrid of Jersey Shore, Real Housewives and Downton Abbey. Yup, we're intrigued.
OK!: How did the show come about for you?
Dave Bradberry: I think I was referred to it by a friend and I just kind of started pursuing it. It was kind of just an opportunity that presented itself. I'd always dreamed of working on the water. I'm a former Marine, I love boats, I love the adventure of it all. For the most part everybody on the show was working in the yachting community before this show ever aired for years so we're real people.
Article continues below advertisement
OK!: So each episode we'll see you guys with a different set of wealthy guests. What's been the strangest request you've ever gotten from a client?
DB: Well, I think something that most people don't know is you're not really supposed to be wearing shoes on a yacht because it could damage the wood. And there was a couple of ladies that came by with loads and loads of high heeled shoes. I think one guest showed up with like 17, 18 different pairs of high heels and when we saw it we were like, "You do know you can't wear any of these on the boat" laughs? One guy wanted to go fishing during a torrential downpour while I was on night watch and I was like, "Oh no, I don't think that's a good idea." laughs It's kind of like wrangling cats sometimes because they are on vacation and they all kind of want to do their own thing, so it's our job to make sure they're having fun but being safe at the same time.
Watch: The Emotional Trailer for Real Housewives of Miami Season 3
OK!: Were the accommodations for the staff five star, too? What was your bunking situation like?
DB: laughs No, no, no. I'd say most people's closets are a little bigger than our rooms. Upstairs it was living in a palace and downstairs it was more like a coffin. Tight-knit quarters. I think our wardrobes were a little laughable, but you live rent free, you don't really have to worry about food and you're always on the go so you have to sacrifice a little to live that type of lifestyle and for some it's very rewarding.
Article continues below advertisement
OK!: Tell me about that blue polo and khaki short uniform. Did you like it?
DB: Well, we had a few different uniforms. There was a dress uniform that was kind of black on white, the ladies on the boat had a kind of a tunic type outfit. But being prior military, the uniforms didn't bother me that much at all. It was a little warm being that we were in the tropics, but usually on a day-to-day basis we were in just a polo and some J. Crew shorts or something. So the uniform wasn't that big of a drawback.
OK!: If you could have had any celebrity guest on the yacht, who would it have been?
DB: Oh,great question. You know, I'm a huge film buff so I would have loved liked Zachary Quinto or the cast of Glee laughs. I would have loved to have a lot of Bravolebrities on there. I would have loved to have some of these great Bravo cooks and chefs, I think that would have been entertaining.
Article continues below advertisement
OK!: The cast of Glee would have probably been hilarious! What are your other favorite shows on Bravo?
DB: My boyfriend and I are big fans of about every Housewives of about every city and I'm a huge fan of NeNe. It varies. I've been watching Bravo for so many years, since as long as I can remember laughs, so it's a pleasure to be a part of it now.
OK!: Now that you're a part of it, who are you really looking forward to meeting? Have you met any Bravolebrities yet?
DB: I actually lived in Washington D.C. during the filming of The Real Housewives of D.C. I became good friends with Mary Amons' daughter Lolly. But I've lived in L.A. now for a couple years and I've learned quickly you don't really chase down and stalk the stars so I'm anxious and looking forward to meeting whoever comes across my path.
OK! Exclusive: ABC Family Avan Jogia Dishes on Kanye's New Album
Article continues below advertisement
OK!: What show do you think Below Deck is most similar to?
DB: It's kind of like The Real Housewives meets The Jersey Shore meets Downton Abbey laughs, if that makes sense. It really is a hybrid show and I think that it's gonna bring a lot to more viewers than anyone really anticipates. There's something with Below Deck for everyone.
Editor's Note: Watch the trailer for season 1 here. Dave's explanation totally makes sense:
OK!: I feel like watching this show is going to make everyone want to go on vacation.
DB: Absolutely! You know, it really is. This is the pinnacle of a nautical vacation. People are going to see this and just gonna be like, "Wow."
OK! Exclusive: Two Truths and a Lie With Princesses: Long Island
Below Deck premieres Monday, July 1 at 10pm on Bravo! And stay tuned to OKMagazine.com for another exclusive Below Deck interview with Dave's castmate CJ! Are you excited for this show? Who would you want as your celeb client? Tweet us @OKMagazine!