VIDEOS
Oscar Pistorius Murder Trial: Pistorius Is Too Tired to Proceed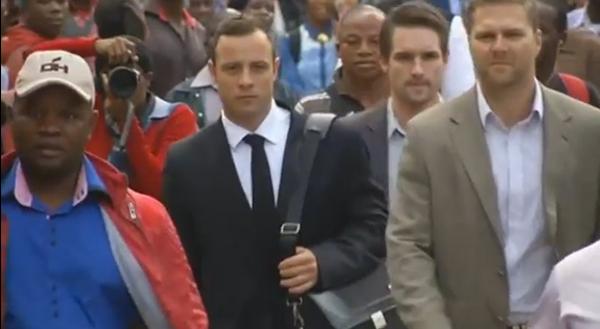 Oscar Pistorius has spent every day this week undergoing hours of questioning about the death of his girlfriend Reeva Steenkamp. Every trip to the stand has been emotional for the athlete, but this Friday was especially exhausting for him.
WATCH: See the first day of Oscar Pistorius' testimony here.
Prosecutor Gerrie Nel continued to break Pistorius down, finding every fault in his retelling of events from Valentine's Day 2013, when Pistorius fatally shot Steenkamp through the bathroom door of their home. "You're trying to cover up for lies," he grilled him, then taunted his weepy reaction. "Why would this question make you emotional?" He also once again brought out the photo of Steenkamp's bloody head after the gunshots.
Article continues below advertisement
WATCH: Check out 13 sports rivalries that came to physical blows.
"I've taken responsibility but I will not look at a picture that I'm tormented by what I saw and felt that night," Pistorius said angrily. "As I picked Reeva up my fingers touched her head. I remember! I don't have to look at a picture. I was there!" He was finally too exhausted and sad to continue, and the judge adjourned for the day. Let's see how Pistorius continues to hold up under the pressures of this murder trial in the weeks to come.
What do you think of the prosecutor's method with Pistorius? Do you think Pistorius is guilty? How will the trial end? Tell us in the comments below or tweet us @OKMagazine.