VIDEOS
Ryan Reynolds Gave Denzel Washington a Black Eye: 'He Took It All Right'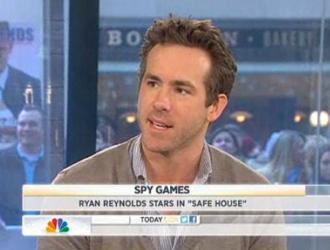 Ryan Reynolds has a new movie out with one of the best actors in Hollywood, Denzel Washington! The handsome actor stopped by the Today show this morning to promote his new film, Safe House, and brag a little bit about how he gave Denzel a black eye while filming.
OK! GALLERY: RYAN REYNOLDS & DENZEL WASHINGTON HEAT UP SPAIN AT SAFE HOUSE PHOTOCALL
How was it working opposite Denzel?
"It gives you sunburn," Ryan joked to Matt Lauer on Today. "It's like being in acting school. It's incredible to work with somebody like that. He's a legend. One of the best living, working actors we have today. Just to be around it is a learning experience. I loved working with him."
Article continues below advertisement
But Denzel may not say the same about Ryan after he accidentally gave the Oscar winner a black eye on the set!
"It's like prison. You have to hit the biggest guy on the first day as hard as you can," he said with a laugh. "Make a statement for the crew. Let them know I mean business."
OK! GALLERY: BLAKE LIVELY & RYAN REYNOLDS' BOSTON SLEEPOVER
But seriously, Ryan blames the accident on the stunts they were doing.
"We were shooting a car-chase scene, and Cape Town figures heavily because it's where the movie is set. They let you get away with more than stunts. The car chases — one is unbelievable in particular... we're going 80 mph on a side street," Ryan explained. "Somehow Denzel's head came in contact with mine. I looked back and there he was with a golf ball-sized egg on his face."
So, how did Denzel react?
"I thought he was going to turn me into a liquid," Ryan said jokingly. He asked, " 'Should I pack my bags?' "
"He took it all right. He gave me a look, like, 'You can't believe you just gave Denzel Washington a black eye,' " Ryan recalled. "That was about the look I had."
Safe House hits theaters this Friday!
Watch a clip of Ryan's interview on Today, below.
Ryan Reynolds talks Safe House on Today from NBC