VIDEOS
See Why Brad Pitt Stalked Selena Gomez and the Two Qualities Her New Boyfriend Must Have!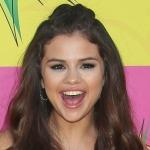 Selena Gomez is boy crazy! Well, you might be too if Brad Pitt stopped by for a surprise visit. That's exactly what happened to the single 20-year-old star when she was in her dressing room at the 2013 MTV Movie Awards.
"They knocked on my door and they said Brad Pitt would like to come in, and I was like, 'He can come in,'" Selena says on the Ellen DeGeneres Show.
Article continues below advertisement
She swears she didn't freak out—at first, anyway! "I was trying to play cool and be really nice and as soon as he walked out I ran and I hide under the craft service table for like two minutes because I couldn't believe it was happening," recalls Selena.
Watch: Selena Gomez Becomes Britney Spears!
Brad, it turns out, wanted a photo of the actress-singer to up his cool-dad cred with his kids because they "were fans."
Ellen DeGeneres, of course, also can't resist talking with Selena about her breakup with Justin Bieber and making sure her guest is feeling okay about it. "I met Brad Pitt. I'm great!" laughs Selena.
Watch: Selena Gomez Releases Her New Single!
The hilarious talk show host then offers to play matchmaker, saying she will hook Selena up with any guy she wants.
Watch the video of Selena's interview to find out the two major qualities that her next boyfriend must have.
Who would you like to see Selena date next? Tell us in the comments section or on Twitter @OKMagazine