VIDEOS
WATCH: Serena Williams And Eva Longoria Show Off Their Bikini Bodies In Miami!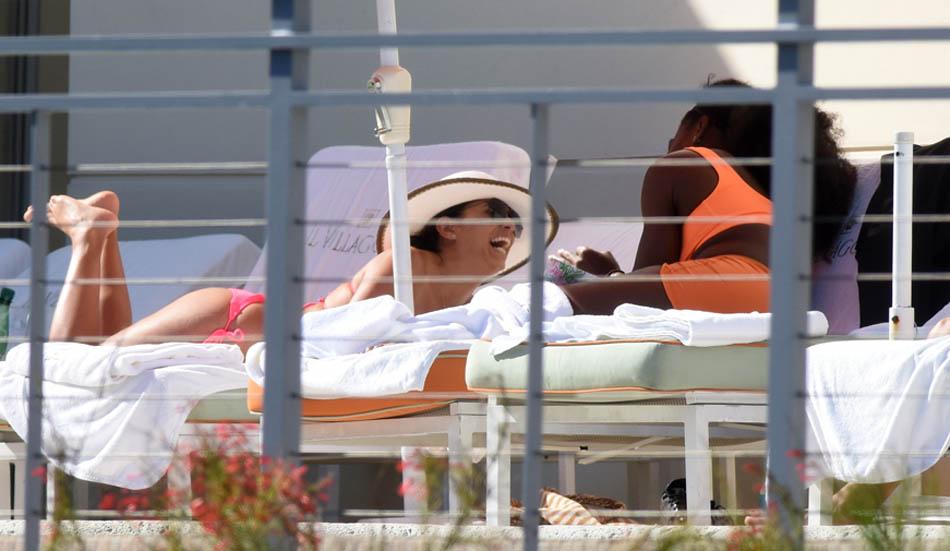 We're in Miami chick! Eva Longoria and Serena Williams looked like they were having a lot of fun while hanging out in Miami together! But they weren't alone--Eva (in her hot Eberjey bikini!) was also there with boyfriend Jose Baston.
When Serena left the lounging area to head to the pool, Eva and Jose chatted with a young female, even snapping cute selfies using a selfie stick!
PHOTOS: Is Eva Longoria Pregnant Or Is It An Optical Illusion?
Article continues below advertisement
Meanwhile, pals Serena and Eva looked amazing in their swimsuits. We already know how Serena keeps her figure super toned as a professional tennis player, but what about Eva?
She recently dished on how she stays fit, saying, according to reports, "I'm a runner. I don't need a gym. I'll go run anywhere. I was in Australia, Budapest and Paris...In Australia and I went running around the botanical gardens and when I got to Paris I ran around the Eiffel tower and when I was in Budapest I ran around their little medieval section passing the castle."
PHOTOS: Celebs Who Covered Up Or Removed Tattoos Of Exes
Check out the video of Eva and Serena above. What are your thoughts on their bikinis? Let us know in the comments section below.