VIDEOS
OK! Investigates: It Pays To be Snooki! Nicole Polizzi Net Worth And How She Made Her Fortune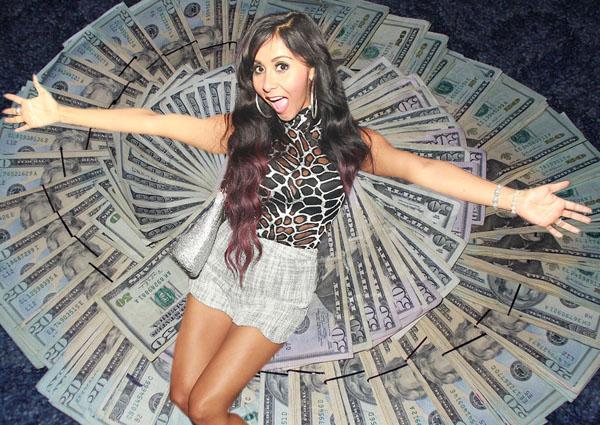 What lacks in height she more than makes up for in bank account zeros!
The 4'8" reality star, real name, , has racked up a very sizable fortune during her four years in the spotlight—and OKMagazine.com is breaking down how and adding up how much!
Snooki was born November 23, 1987, in Santiago, Chile and brought to the States after she was adopted at six months old by Italian American parents.
Article continues below advertisement
Polizzi gained her nickname in high school—she was named after the male character in the movie —in honor of the fact she was the first of her friends to make out with a boy!
Article continues below advertisement
Following her appearance, Snooks was scouted by a talent director working on the soon-to-be launched show … and a star was born!
Jersey Shore—which premiered in 2009—followed the day-to-day lives of eight larger than life "Guidos" and "Guidettes" spending their summer at the Jersey Shore in New Jersey.
It was an immediate runaway hit with audiences unable to get enough of the GTL, hard drinking, partying and smushing with random guys and girls!
OK! News: Will Snooki And Jionni Write Their Own Wedding Vows
Season two saw the cast take their act to Miami—then back to Jersey for season three—on to Italy for season four—Seaside Heights for season five and then the final season, six.
Snooki was without doubt the breakout star of the show and when the finale aired on December 20th, 2012, she had already started work on her spin-off show, .
Article continues below advertisement
Not surprisingly, a large portion of Snooki's wealth is courtesy of MTV—for the first season of Jersey Shore the mom-of-one was paid $2,200 per episode but that had rapidly skyrocketed to a whopping $150,000 per episode by the end of filming.
She earned an even higher, $175,000 per episode, for Snooki & JWOWW, which saw a more subdued, grown up Polizzi preparing for the birth of , her first baby with fiancé .
However, despite raking in the big bucks from MTV, Snooki did not rest on her laurels!
The pint-size business tycoon soon set about building a highly profitable business based around herself as a central brand—diversifying into fashion, make-up, writing and even wrestling!
"I often get asked by my fans where they buy the slippers, sunglasses and other fashions I wear on the show," Snooki told CNN Money in 2011 about her decision to start her fashion line.
Article continues below advertisement
"I'm trying to take advantage of what's going on in my career by offering fans some of the products that I love and use myself."
Those products include Snooki lip glosses and makeup, jewelry, a clothing line and a tanning lotion.
She's authored three books—A Shore Thing, released in January 2011, detailing her search for love on the boardwalk, but in novel form—followed by Confessions of a Guidette in 2012, a part-memoir, part style-guide—and then this year's novel, Gorilla Beach, a sequel to A Shore Thing.
Snooks has appeared on and on as part of a six-person mixed tag team and created her own boxing promotions company in 2012.
Polizzi can command up to $75,000 per red carpet and club appearance and also brings in bank from speaking engagements!
In April 2011 she was the subject of controversy after it was learned she was paid $32,000 to speak at Rutgers University about being a celebrity—during which she doled out pearls of wisdom such as "study hard, but party harder!"
Love her or loathe her, Snooki is certainly here to stay, and with a net worth of $4 million already it's a certainty you will be seeing much much more of her in the future!
Are you surprised by how much Snooki is worth? Sound off in comments below and tweet us @OKMagazine