VIDEOS
A Stylish Series: Secrets From Inside the Wardrobe Closet on 'Pretty Little Liars'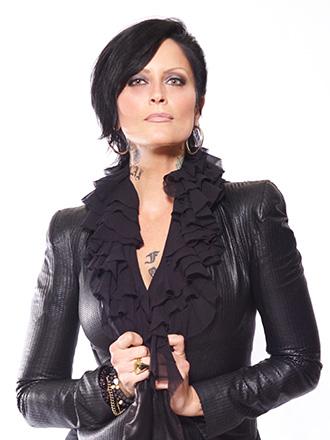 Article continues below advertisement
OK!: How will Season 4 be different fashion wise?
Mandi Line: You can expect to see wild and outrages—pounds and pounds of accessories! Plus, higher shoes, shorter skirts, and more prints.
OK!: What's the hot new accessory the girls will be rocking?
ML: "Name" necklaces and initial rings by Sarah Chloe.
Who Wore It Better? Shay Mitchell vs. Kylie Jenner?
OK!: What's been your ALL TIME favorite look on each of the girls?
ML: Aria's Homecoming dress that we deconstructed from 5 different garments, Hanna's long, hot pink dress with a black and white H&M jacket (which I now own since I loved it so much), Emily's "Barbarella" Halloween outfit and Spencer's pistachio, donkey-print dress with a huge bow belt!
OK!: Which episode were you most excited to style this season?
ML: I was the most excited by the Halloween episode. I can't say top secrets, let's just say we take you way back.
MORE ON:
pretty little liars
Article continues below advertisement
OK!: Let's talk boys… The guys on the show are all hot—who's the most fun to style?
ML: The guys…I love "undressing" them all! Oops, I mean I love dressing all of them. I guess Caleb since he's the most like me, but man the boys' fittings are sooo fun—they're not fussy and they're seriously so, so kind. All we do is laugh!
OK!: How have the girls' personal styles evolved over the years?
ML: They are all fashion icons—look at Shay Mitchell! I feel so honored they still ask my advice on everything—love those fashionistas.
Ashley Benson Reveals Her Perfect Summer Date
OK!: Any fashion trends you're loving right now?
ML: PRINTS, BOLD, WILD! I'm loving color and just all-over edge and rock 'n' roll in fashion. Loving that people are rocking hats and tons of accessories too. I swear the accessory trend in young girls is because of Aria.
OK!: What's on it's way out?
ML: I want the '90s to BE GONE NOW! Bring back the elegance.
Who's your favorite character on Pretty Little Liars? What's the most memorable outfit she's worn? Sound off in the comments below and don't forget to tune into PLL Tuesday nights at 8/7C!