VIDEOS
The First OK! TV Episode Airs Today! Click Here for More Info on the New Fab Show!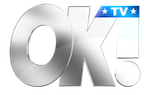 OK! is going onscreen! And all it takes for YOU to get in on the pop culture news action is a simple click of your remote control. OK! TV is a new show that covers all things celebrity. Their tagline is "Entertainment. Gossip. Life" for a reason, you know!
The fabulous new series is hosted by five all-star personalities that you will be sure to fall in love with. The team, consisting of Alex Miranda, Shandi Finnessey (yes, the former Miss USA), Julia Alexandria, Ron Pitts, and Mayleen Ramey, will guide you through the best stories of the day and will fill your celeb fix. And if you're a Selena Gomez fan, you'll probably want to check out the first episode which airs today!
Article continues below advertisement