VIDEOS
The Princesses' Best Quotes from Episode 5 of 'Princesses: Long Island'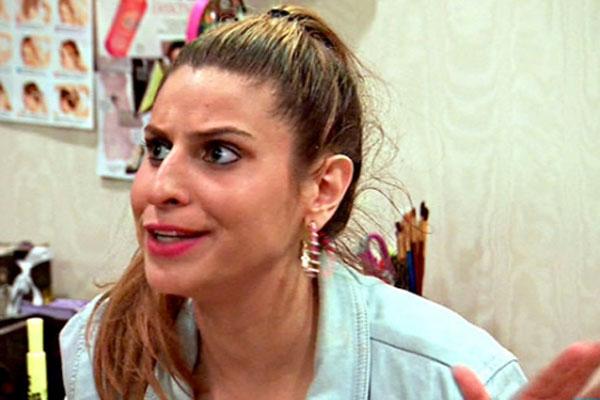 We can all agree that that 'Intermenschion' on this week's Princesses: Long Island was equally parts awkward and amazing, right? Our favorite quotes from this week's episode are basically the same thing. Read on to see the ladies' best zingers of season 1, episode 5...
"I'm a pretty girl. Obviously guys are gonna text me." – Erica, when her boyfriend Rob confronts her about the other guys (aka the random guys) in her life. Girl's got a point, but girl's also got a boyfriend, so...
Article continues below advertisement
"It's not just the leaking and having your hand cold. It's really a fashion statement." – Amanda, when talking about her new business venture, the Drink Hanky, which is basically a zebra-printed sock for your beverage. Lchaim!
"I get that sex sells but I really don't want Kissamint to turn into F***amint." – Joey, when talking about her new business venture, which is half lip gloss, half mint breath drops. Not sure if we felt worse for Joey when she was in that meeting with that creepy dude or when her dad basically told her she sucks though. Oy.
"She's like an inspirational magnet that people get for their refridgerator." – Ashlee, talking about her newfound BFF, Casey, while shoe shopping. Friends don't let friends spend upwards of $5,000 in shoes though, for the record.
"You think six effing jappy girls from Long island are going to be able to defend you? I see the bigger picture." – Chanel, during her and Casey's intervention with Erica when trying to explain why she needs to change her drinking habits and lifestyle. You know, because six jappy girls are not going to be able to protect her from rapists or bail her out of jail.
"Stars die in bathtubs. Like, you could kill yourself that way." – Casey, when talking to Erica about how her life choices are a bad vice and how she should take up crotcheting instead since it's safer and can't get her into trouble. Mmmhm.
Which princess had the best one-liner tonight? What did you think of the intermenschion? Tell us in the comments below or tweet @OKMagazine.