VIDEOS
Video: Hosting an Oscar Viewing Party? We've Got All the Tips and Tricks You Need!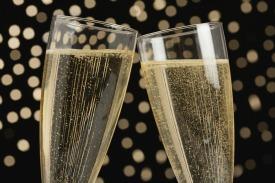 It's the biggest award show of the year, and we've got the tips you need to throw the best party of the year!
OK! went to Celebrity Event Producer Jes Gordon for all the answers on how to throw an amazing Oscar viewing party.
Check out the video above to see exactly what you can do to your space and for your guests to make it memorable!
Here's where to find all the party elements you'll need:
* For blingy (yet inexpensive!) pillows and faux fur, stop by stores like Bed, Bath & Beyond.
Article continues below advertisement
* For the delish drinks you can get any type of champagne and add a spash of fig liqueur for that seasonal taste.
* The edible glitter can be found at any specialty baking store for under $10! (I am OBSESSED with this one!)
* The drinking straws can be found at Fishs Eddy or a party supply store near you (and if you are doing the glitter which I strongly suggest, you'll want to do the straws too, or expect a gold and glittery mouth).
* You can get the candle holders at JamaliGarden.com or any home goods store.
* The flowers are phalaenopsis orchids but you can buy any kind that you find glamorous and gorgeous!
The recipes:
Spiced Nuts
1 1/4 lb. Mixed Nuts
1 tablespoon melted butter
1 tablespoons agave syrup
3 tablespoons coarsely chopped fresh rosemary leaves
1 tablespoon kosher salt
1 teaspoons black pepper
1 tablespoons dark brown sugar
Article continues below advertisement
1 tablespoon cayenne
Preheat the oven to 375 degrees. Place nuts on a baking sheet. Melt butter and agave syrup in a pot and let cool slightly, then pour over the nuts and toss to combine. In a bowl, combine rosemary, salt, pepper, brown sugar, and cayenne. Pour over nuts and toss to combine. Bake for approximately 10 - 14 minutes. Let cool and serve.
Homemade Kettle Corn
Ingredients: *Serves 3
1/3 c. white kernel popcorn
2 tbs. canola oil
1 & 1/2 tbs. granulated sugar
1/2 tsp. salt
Directions: (write this part out on the card you will tie around the mason jar with gold ribbon)
1. Heat oil in medium pot on medium heat to medium-high heat.
2. Add popcorn kernels, sugar and salt. Stir until kernals are covered with oil mixture. Cover with lid and without removing from heat, shake pot occasionally. Pop corn until popping slows. Remove from heat.
3. Using spatula, spread popcorn onto jelly-roll pan to cool. Break apart as needed.
4. Serve in bowl or individual paper bags.
For more party ideas and info from Jes check out JesGordon.com and be sure to stay tuned to OKMagazine.com for more Oscar coverage!
Are you throwing an Oscar viewing party this week? Tell us in the comments below or on Twitter @OKMagazine