VIDEOS
What We Learned From Last Night's 'Real Housewives of Orange County'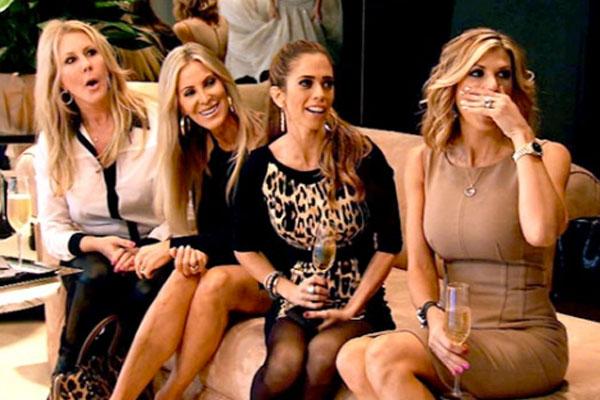 After last week's 100th episode clip show
and behind-the-scenes commentary, I am so ready for some fresh OC fun.
Watch: Chris and Albie Manzo Reveal What They're Looking For in a Girl
Tamra's fitness studio still isn't ready and she's over it. She's also over Gretchen not wanting to join the other ladies in her wedding dress shopping day now that Alexis has been invited to join them. Will Gretchen be a no-show? Nope, they women are picking her up on the way to the bridal salon…but not before trash talking ensues about Gretchen and Slade.
Article continues below advertisement
At the shop, Tamra gets to looking for the perfect wedding dress, Alexis and Heather are delighted to be cordial with one another and Gretchen is trying to stay as far away from the group as possible. I see both sides here—Tamra wants everyone to suck it up because it's her special day, but Gretchen, who was once an Alexis supporter, doesn't want to be fakety-fake since their falling out. It's frustrating all around. Then, of course, Gunvalson has to stir the pot and tell Alexis that Gretchen didn't want her coming along on the shopping excursion. Unnecessary, Vicki G, unnecessary.
OK! News: Demi Lovato Opens Up About Her Childhood
The conversation turns to Brooks and Vicki admits they've ended things when Lauri drops the bomb about her daughter's friend being involved with him. This is all news to V and as Lauri piles on details like this girl has done porn and refers to Brooks as her sugar daddy, Vicki begins to unravel. Perhaps you shouldn't have been stirring the pot before with Gretchen, lady. These things have a way of biting one in the ass.
Article continues below advertisement
Vicki melts down and, oh yeah, Tamra finds a wedding dress.
At dinner Heather announces her Malibu Country gig to the group. Tamra mentions Gretchen said she had also been offered a part on the show, but was going to turn it down to go dress shopping with the group. Heather, who was also privy to this info, admits she asked the producer about Gretchen's offer to appear on the show and he denies she was ever offered a part at all. Of course nothing cheers Vicki up more than the chance to catch G in a lie and she immediately says, "So she's a liar face?" She might as well said, "Brooks, who?," because this nugget has perked her right up.
OK! News: Ali Larter Pops in Pink
Next week Lydia takes the ladies to Canada (which is kinda vague since it's a really big country) and there is some serious drama on the slopes.
Do you think Gretchen is lying or misunderstood? Tell me in the comments below or tweet @OKMagazine.