VIDEOS
Why Did Kelly Clarkson Call Her Former Mentor a Liar?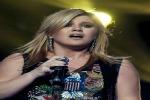 Music legend Clive Davis' new memoir, The Soundtrack of My Life, is more fact that fiction, rages his onetime rising star, Kelly Clarkson. "So I just heard Clive Davis is releasing a memoir and spreading false information about me and my music," Kelly has written in a new blog post. "I refuse to be bullied and I just have to clear up his memory lapses and misinformation for myself and for my fans. It feels like a violation. Growing up is awesome because you learn you don't have to cower to anyone—even Clive Davis."
Article continues below advertisement
According to Entertainment Weekly, Davis, who is largely credited with masterminding the launch of Kelly's career after American Idol, recalls in his book that the singer exploded into "hysterical sobbing" when he insisted "Since U Been Gone" be featured on her 2004 album Breakaway.
"Not true at all," Kelly responds. "His stories and songs are mixed up. I did want more guitars added to the original demo and Clive did not….I still fought for the bigger sound and we prevailed and I couldn't be more proud of the life of that song. I resent him dampening that song in any way."
Kelly goes on to claim that Clive had some choice words for her and a new song she had created. "I cried after I played him a song I had written about my life called 'Because Of You.' I cried because he hated it and told me verbatim that I was a 'sh*tty writer who should be grateful for the gifts that he bestows upon me.' He continued on about how the song didn't rhyme and how I should just shut up and sing. This was devastating coming from a man who I, as a young girl, considered a musical hero and was so honored to work with. But I continued to fight for the song and the label relented. And it became a worldwide hit. He didn't include that in the book."
Is Kelly right to stand up to her former mentor or should she have taken the high road and kept quiet? Tell us in the comments below or on Twitter @OKMagazine