Archive
The 10 Craziest MTV Movie Awards Moments Ever (Remember When Lindsay Hosted?)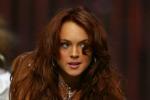 The MTV Movie Awards are the best for several reasons. Here are three: They signal the beginning of summer blockbuster movies, they're way more interesting than the ultra-formal events during awards season, and you never know what is going to happen. Case in point: these insane 10 moments.
OK! News: Enter to win the MTV Movie Awards gift bag!
Warning: A lot of these involve kissing. People love dramatic kissing moments on the MTV Movie Awards, I cannot help that.
Article continues below advertisement
1. Jim Carrey accepts his Best Male Performance award in 1999 fully in character as a burned-out hippie.
2. At the height of his Lonely Island video fame, Andy Samberg hosts and does a great spoofy song, "Cool Guys Don't Look at Explosions." It features an excellent cameo by J. J. Abrams (creator of Lost, producer of the upcoming Star Wars reboot and all fantastic things).
3. Reese Witherspoon wins the Generation Award, and goes on an uncharacteristic rant about sex tapes, naked pics, and reality shows. So, not a huge fan of the Kardashians, then?
4. Megan Fox presents an award with Rainn Wilson, who is naked except for a teddy bear strapped to his crotch.
5. Kristen Stewart accidentaly drops her golden popcorn . Girl, we love you so much, crazy awkwardness and all. This fan video sets the epic fail in slo-mo to Imogen Heap's "Hide and Seek," which really heightens the horror.
6. Lindsay Lohan hosts the 2004 show. No, that is not the craziest part! The crazy part is that she opened with a dance battle. Also, that she was only 17 when this happened. Good times.
Article continues below advertisement
7. t.A.T.u. performance ends with hundreds of girls kissing in their underwear. Oh man, remeber t.A.T.u.? This clip could not be more 2003 if it tried, starting with the opening by Amanda Bynes and Hilary Duff talking about how hot Ashton Kutcher is.
8. Selma Blair and Sarah Michelle Gellar win Best Kiss for their hot lady-on-lady smooch in Cruel Intentions. How awesome are their matching halter tops? Hey-o, 2000 fashion.
9. Eminem begins a musical performance by voicing a puppet making sexual overtures to Lindsay Lohan.
10. I'm ending on what I strongly believe is the best moment of any awards show, of anything MTV has ever aired, and possibly of my young life. Ryan Gosling and Rachel McAdams (dating in real life at the time) accept their Best Kiss award for The Notebook by having the sexiest kiss of all time. I watch this like once a month.
What is your favorite moment of the ones above? Is there one I forgot? Will you be tuning in this weekend? Tell us in the comments below or tweet us at @OKMagazine.