Archive
Decision Decided! Teresa Giudice Sentenced To 15 Months, Joe Giudice 41 Months For Fraud Charges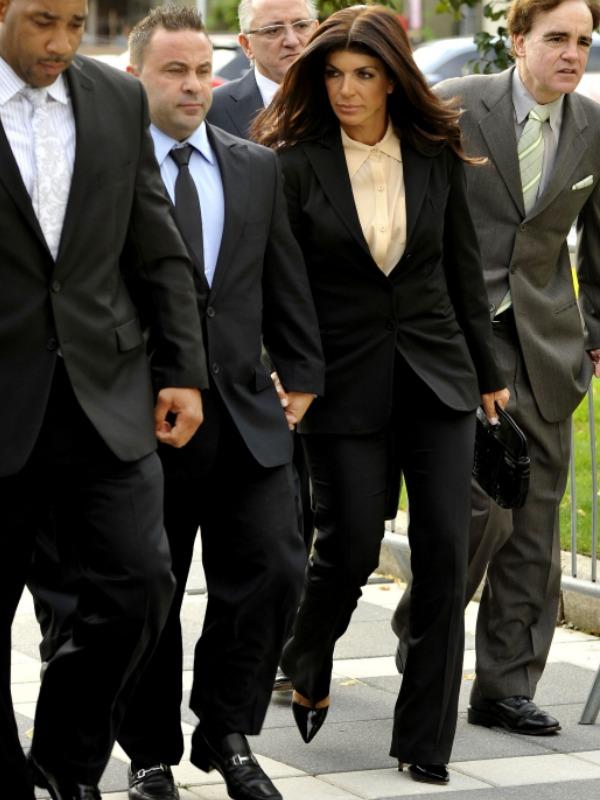 Justice has been served to the Giudices!
Teresa Giudice has been sentenced to 15 months in prison, while her husband Joe Giudice will serve 41 months.
The judge agreed that the Real Housewives of New Jersey stars would not serve their sentences at the same time so that one parent could care for their four daughters.
In a letter to the judge before the sentencing, Teresa Giudice said, "I am more sorry than anyone will ever know. I deeply love my family. My four daughters are my life."
Article continues below advertisement
PHOTOS: Real Housewives Stars With Criminal Pasts!
She admitted that she is scared and takes full responsibility for her actions.
"I need to learn to do things for myself," she said. "I need to wake up."
Before the sentencing, the reality star asked for a "downward departure" to have her sentence reduced.
The Giudices arrived to court in Newark, NJ early this morning to receive their sentences. The duo was indicted on July 29, 2013 for 39 counts including bankruptcy fraud, tax evasion, mail and wire fraud and more. Joe Giudice was also charged for failing to file taxes from 2004 to 2008.
The couple plead guilty on March 4, 2014 for the three counts of bankruptcy, and conspiracy to commit mail and wire fraud after months of standing by their innocence.
A source told RadarOnline.com, "Teresa … tried to not cry in front of her four daughters, but she couldn't help but shed a few tears. It's not lost on Teresa that Wednesday could have been her final day of freedom for a very long time. And Joe knows the judge is likely to throw the book at him, and sentence him to at least three years in prison, too."
Do you think their sentences are fair? Tell us in the comments below!