Archive
OK! Exclusive: Noah Galloway Reveals What He REALLY Thinks About Caitlyn Jenner's ESPY Award, Plus Plans For His Fairytale Wedding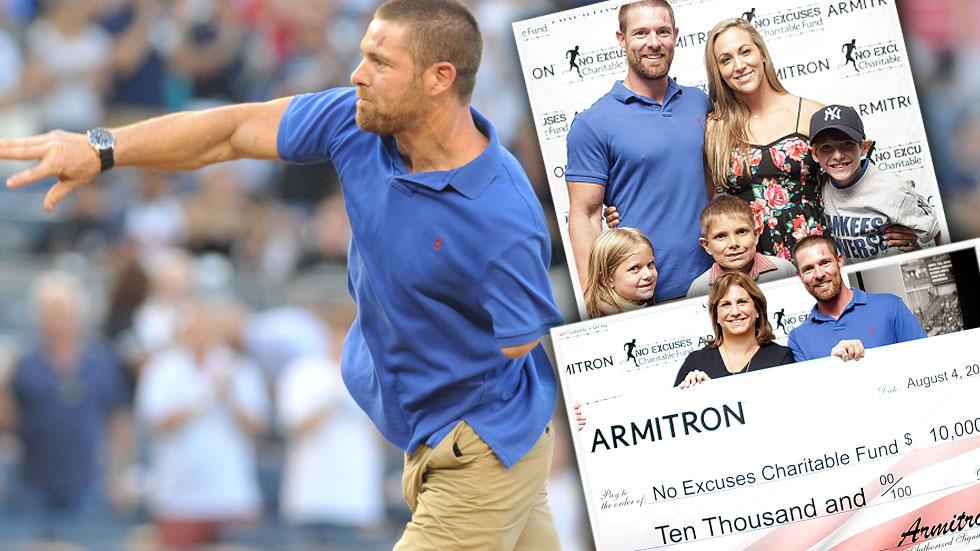 Noah Galloway is on top of the world right now. Fresh on the heels from being a season 20 finalist on Dancing With the Stars, the army veteran and double amputee is mid-wedding planning with fiancee Jamie Boyd, who he proposed to on live television—no pressure.
The 33-year-old also celebrated a huge milestone on Aug. 4 by throwing out the first pitch at—no big deal—the New York Yankees vs. Boston Red Sox game in honor of his collaboration with Armitron Watches, which donated $10,000 to his charity, No Excuses Charitable Fund.
Article continues below advertisement
But it's not your run-of-the-mill celebrity brand endorsement, as the vet and father has a very special connection with the watch brand.
Galloway sat down with OKMagazine.com at the big game to discuss why Armitron gave him perseverance after his tragic accident in Iraq in 2005 and revealed why his plan throwing the first pitch backfired, how he's still nervous for that first dance at his wedding despite dominating DWTS and why he thinks Caitlyn Jenner deserved the Arthur Ashe Courage Award he was rumored to receive.
OK!: Congrats on everything! How does it feel to throw out a pitch at a Yankees-Red Sox game?
Galloway: "It was amazing but I didn't practice at all. But I had a plan in mind, I was going to walk out with the kids and my two sons had discussed it among them that the 10-year-old was going to throw it. So I was going to walk out there and just hand it to the 10-year-old and look like the best dad ever and didn't have to mess up and look good because I gave it to my son. He's a huge Yankees fan. But when we got down there, they said 'No, the kids can't walk out there.' And I'm like, 'What am I gonna do? I don't have a backup plan!' So I just went out there and could not believe it actually made it to the catcher."
Article continues below advertisement
OK!: So you're collaborating with Armitron and I hear you have a very personal connection to the brand.
Galloway: "I had bought a $20 Armitron watch and was wearing it in Iraq on my left arm. From the explosion, my left arm was blown off immediately. But it was still laying there with me, so they took all my things, put it in a Ziploc bag and it was at the hospital when I woke up. When I moved back to Alabama, I put that Ziploc bag in a drawer for five years. When I decided to get back in shape, I love to wear a watch when I workout, so I said let me check that watch. Wipe the blood off of it, set the correct time and started wearing it."
MORE ON:
Dancing With the Stars
Article continues below advertisement
OK!: So it's obviously a very exciting time with your charity, throwing pitches and getting married—so how is the wedding planning going? When is the big day?
Galloway: "Ever since the show we haven't stopped moving!"
PHOTOS: Erin Andrews Is Not Impressed By Noah Galloway's Proposal On DWTS – See Her Reaction!
OK!: I heard you took a little vacation though, so you had a little bit of rest, right?
Galloway: "No, because everybody recognized us! But we know we want to do it in the fall. We think fall of next year we're going to do it on a farm. She grew up on a peanut and cattle farm so we want to do that."
OK!: So I guess you're not worried about your first dance thanks to DWTS?
Galloway: "I can't dance! Everybody thinks I can dance now. I can't dance! My dance partner Sharna Burgess said she would choreograph our first dance. So we'll probably take her up on that."
OK!: Speaking of DWTS, there's been a few rumors that Caitlyn Jenner will compete next season.
Galloway: "Well, none of the rumors were true when I went on! I haven't even paid attention to it. I am interested to know!"
Article continues below advertisement
PHOTOS: Val Chmerkovskiy Wants To Dance With Caitlyn Jenner On Dancing With The Stars
OK!: What do you think about Caitlyn receiving the Arthur Ashe Courage Award?
Galloway: "Here's the thing: I was never the runner-up. So many people think it, and I'm like, No! I'm not doing things for an award."
OK!: A lot of people said you should have received it, though. Do you agree?
Galloway: "Somebody said the other day, 'Are you upset that she got it and not you?' And I was like, there are awards given out every day. Are you worried you didn't get one of those? I don't care. That's great, you know what I mean? In two weeks, the state of Alabama is giving me Citizen of the Year, and for me, that's huge for my home state to recognize me like that. It's huge for me; I have no complaints!"