Archive
OK! Exclusive: Brooklyn Decker Reveals A Surprising Fun Fact About Her Husband Andy Roddick!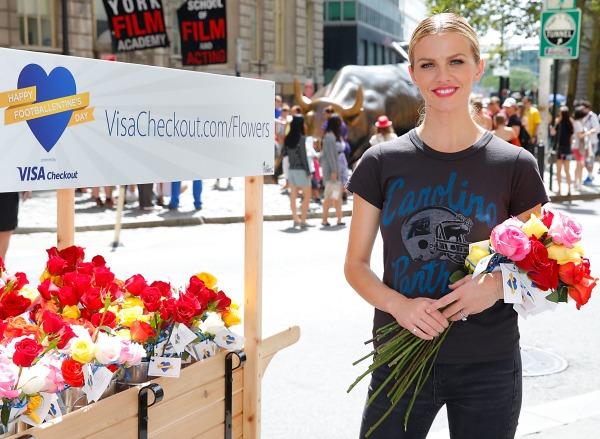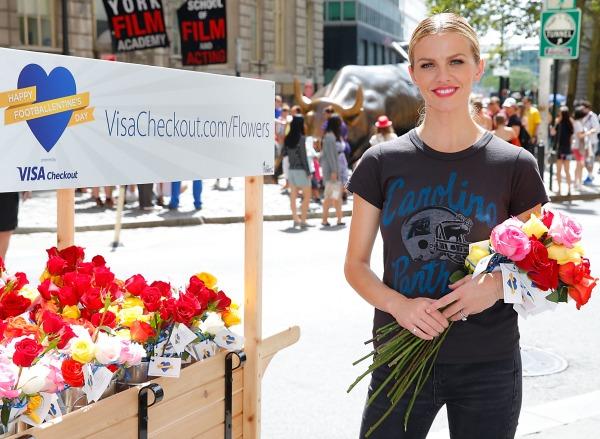 Listen up football fans, because Brooklyn Decker is about to help make your life SO much easier—before the new NFL season has even begun! The supermodel, and big Carolina Panthers fan, has teamed up with Visa to celebrate Footballentine's Day. This genius idea is a day, September 6th to be exact, where NFL fans can send their loved ones 18 beautiful, free (!) roses to say, 'Hey sorry I'm going to be kinda busy watching football for the next few months and might miss a date night or two." Brooklyn explains her favorite game day snacks, the Netflix show that makes her sob every time and a surprising fact about her husband, tennis player Andy Roddick, that we never would've guessed!
Article continues below advertisement
OKMagazine.com: Let's talk about Footballentine's Day! What a fun initiative that probably didn't take much convincing to get you on board.
BD: Well I'm a big football fan so I found it to be really funny. I just thought what a really clever, fun idea to get people involved, to kick off the NFL season and to get people to check out Visa Checkout. It's just a really fun initiative and I figure it's going to save a lot of people a lot of time when they have to apologize for missing date night on a Sunday night.
OKMagazine.com: Between you and your husband Andy, are you the hardcore football fan? What does he get swept up in?
BD: I love football, I'm a Panthers fan, and he's a fantasy football guy so I would send him 18 roses for missing dates on Sunday nights when I'm watching the Panthers play and he would probably send me 18 roses to apologize for constantly checking his fantasy lineup. We're both equally accountable, but just for different things.
Article continues below advertisement
OKMagazine.com: Eighteen beautiful, and free, roses is a great present, but is there another gift you would love to have?
BD: I'm not a big gift person, I'd rather just spend time with somebody. For my friends' birthdays, and for holidays with my family, instead of getting gifts we visit each other, we go take hikes together, we go on kayaking trips, things like that. Those to me are really great gifts, because we don't have time these days so times with friends would be a better gift than anything else, aside from 18 roses of course!
PHOTOS: See Rihanna's glam vaca in the South of France
OKMagazine.com: When it is game day, how do you make football attire cute? Do you do anything to jerseys to make it look feminine and fun instead of just throwing on an oversized jersey?
BD: I don't. As bad as that sounds I don't even try! I wear a jersey, I wear my sweatpants, I wear eye black, I go all out. There's no time to make anything cute, I just wear the jersey as is. If you're going to do it, commit fully. (Brooklyn's Carolina Panthers Tee above is made by Junk Food.)
Article continues below advertisement
OKMagazine.com: Do you have any game day snacks that you love to chow down on?
BD: I feel like I travel so much that I eat unhealthily all the time, I'm eating unhealthy now specifically, so I try to eat healthy on game day because it's the one time I'm sitting down in front of my TV and can control what I'm eating. I'm not in an airport, I'm not on a set, your food's not dictated for you. So carrots and hummus are my go-to snack for game day which is incredibly boring but I actually try to be healthy.
OKMagazine.com: When it comes to Andy, what is the girliest thing about him or something we might not know?
BD: He's a dude, through and through, I have to say. He's a closet musical fan. He loves musicals. He's seen Jersey Boys four times in different cities, but that's about it. He loves musicals which isn't even girly at all, it's just sort of a funny, unknown thing about him. But I find it really masculine because it's very attractive when someone likes art like that.
Article continues below advertisement
OK! News: Even the biggest Friends fan will love these 22 fun facts
OKMagazine.com: You're working on the new Netflix series, Grace and Frankie— are there other Netflix shows you are currently binge-watching?
BD: I am a massive House of Cards fan. I watched both seasons in two weeks. I was very behind on the Scandal craze but I'm fully caught up on all three seasons. I just started Orange is the New Black and Derek on Netflix which I feel like is a highly underrated show that not enough people watch, I cry at every single episode. It's my favorite show on TV right now, it's Ricky Gervais, and it's unbelievably heartwarming. It's just one of the best shows I've ever seen. It's so good. The season is only like 7 episodes, and the season finale, I'm telling you, you will be sobbing. It's so beautiful.
OKMagazine.com: Your new show is created by Friends co-creator Marta Kauffman, and since we're coming up on the 20th anniversary of the Friends premiere, has she shared any stories on set about the iconic sitcom?
BD: Nothing yet, but I do need to ask questions and I feel like the anniversary might prompt a few. One of my favorite episodes was when Ross had the leather pants and the flour and he couldn't get out of the leather pants, I could ask about that.
Article continues below advertisement
Will you be getting free roses for your loved ones to kick off the NFL season? Tell us in the comments below or on Twitter @OKMagazine.