Archive
Panic Sets In For Ashton Kutcher & Mila Kunis As Their Baby's Birth Date Looms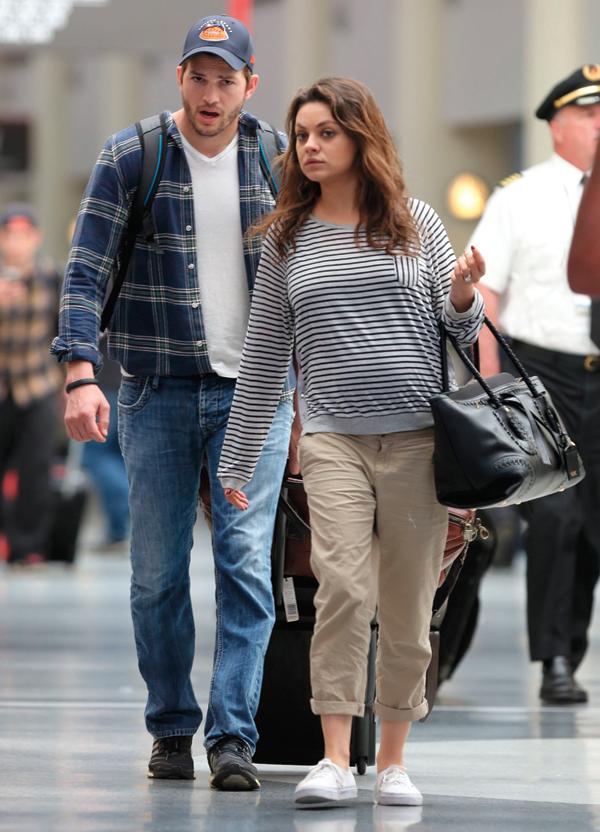 Mom-to-be Mila Kunis is determined to have a Zen birthing experience—but a recent rush to the hospital, coupled with fiancé Ashton Kutcher's anxiety, has filled her prenatal days with chaos.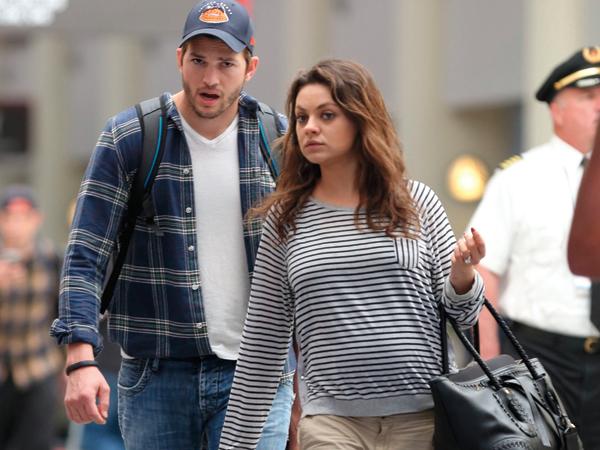 OK! News: Catelynn Lowell & Tyler Baltierra Finally Reveal They Are Expecting Baby #2
Mila Kunis and Ashton Kutcher appear to be the epitome of L.A. cool, frequently donning ripped jeans and hoodies on leisurely midday outings for burgers and froyo. But behind closed doors, the first-time parents-to-be are consumed with panic! Insiders report that Mila recently had a bout of cramping and insisted that Ashton drive her to Cedars-Sinai hospital, where she plans to deliver her baby. The frantic last-minute rush turned out to be a false alarm—but it injected a new dynamic of anxiety and fear into a previously calm pregnancy. "Mila wants the world to think she's calm and collected," says an insider, "but in reality, she's freaking out!"
Article continues below advertisement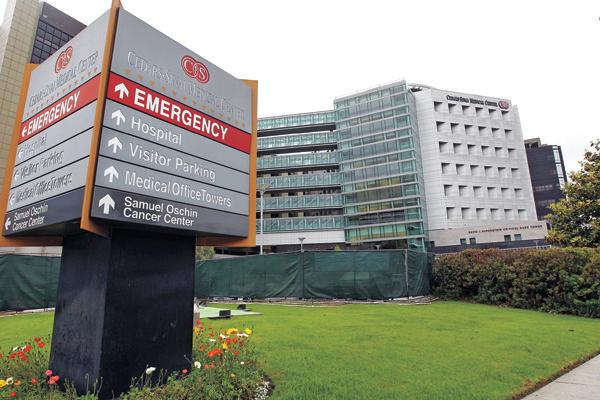 MANIC PANIC
When Mila, 30, found out she was pregnant late last year, she immediately assumed an earth-mother mentality. When she finally opened up about her pregnancy on The Ellen DeGeneres Show in May, she seemed utterly confident that she would deliver naturally, with no epidural. "The hospital I'm going to be laboring in does a midwife, you know, doula type of thing, and so I'm gonna do it as all-natural as I possibly can," she said, adding, "I know I'm crazy… I mean, I did this to myself. I might as well just do it right."
OK! News: Is Kanye Controlling? Inside The Wests' Relationship
But now that her delivery date is approaching, friends say Mila is paralyzed by the fear of something going wrong. "She's starting to really panic as the due date gets closer," says an insider. "She's second-guessing all her decisions and is panicking about the pain. She's been reading things online about natural births, and they're scaring her even more. She's beyond fearful."
Article continues below advertisement
THE ZEN ZONE
While the people closest to Mila should be the first to allay her fears, sources say they're actually a main source of anxiety. Ashton, 36, has been a bundle of nerves and excitement, over-preparing since day one: Mila recently revealed that he filled their outdoor fridge to the brim with anything a pregnant woman could theoretically want—pickles, anchovies, ice cream. But sweet gestures aside, Ashton's nervous energy has made Mila rethink her decision to have only him (in addition to her midwife) by her side in the delivery room. "Ashton has been so on edge throughout the pregnancy, and Mila's biggest worry is that he's going to break down because of all the stress in the room the day of the birth," says a source. "She's made it clear to him that this can't happen, that he needs to be the strong one and hold her hand through the process."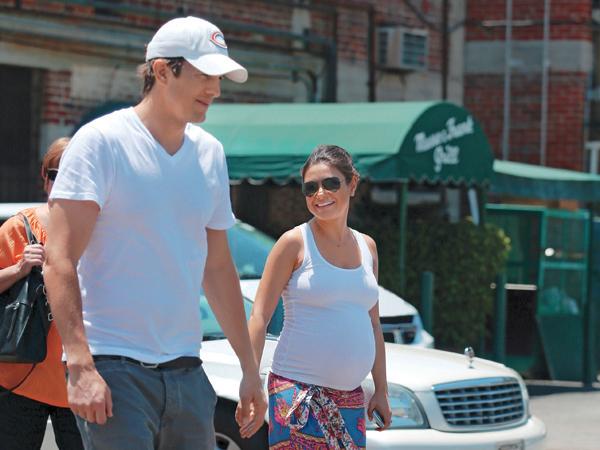 PARENTS RULE
Similarly adding to the stress are Mila's parents, Elvira and Mark. Ashton has been eager to please his Ukrainian in-laws-to-be, even taking private Russian lessons so that the baby can be fully bilingual. But in the days leading up to Mila's delivery, Ashton has become increasingly concerned that her parents—who are famously close with Mila, joining her both in glamorous film locations and on daily runs for coffee and groceries—will insert themselves too much in the delivery and stressful first post-partum weeks. "Two people are allowed in my delivery room—my doctor and my significant other," Mila recently said. Insiders say that she's making no exceptions, not even for her parents—but Ashton's worried that they'll have their own agenda. "Mila's family is really intense and Ashton is over-whelmed," the source says. "He doesn't want to offend anyone, but he's debating having them not come to the hospital on the big day and just meeting them at their L.A. home instead. The last thing he wants is a circus."
Article continues below advertisement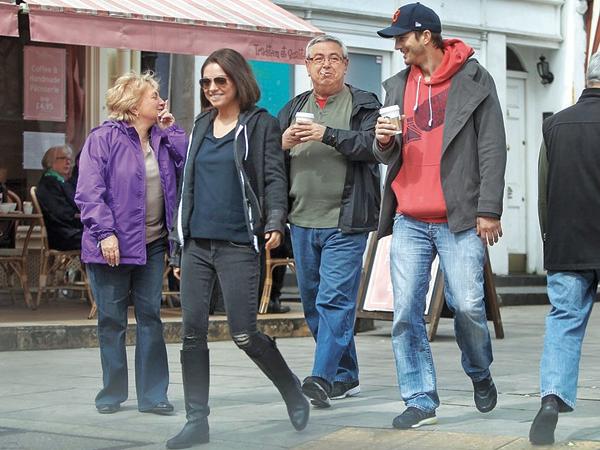 Unfortunately, a circus may be inevitable. As Mila becomes more frazzled, less confident in her birthing plan and less assured by those closest to her, the medication-free, spiritual experience she was hoping for seems less and less likely. "The delivery room is not going to be a calm place, to say the least," says an insider. "Mila and Ashton are about to be first-time parents, and the thought of the unknown is absolutely terrifying them. What's most important is that the baby is healthy, but so much drama has gotten in the way of what's supposed to be the happiest day of their lives."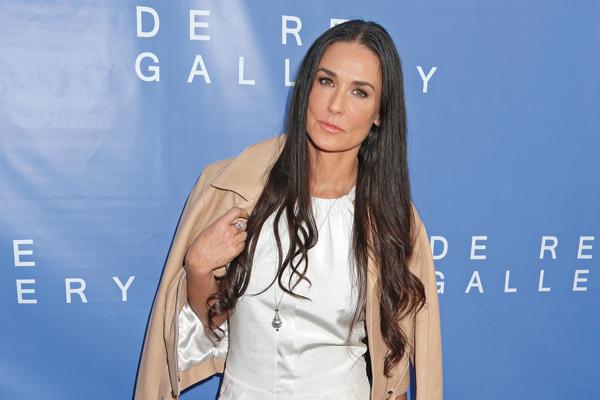 To Ashton's credit, he's been desperately trying to thwart a potential stressor—his ex-wife! Insiders have revealed that Demi Moore, whose divorce from Ashton was finalized last november, has tried to reach out to Mila and offer her well wishes, going so far as to have flowers delivered to their house but Ashton finally shut her down. "Ashton doesn't want Demi anywhere near Mila, and he told her straight," says the source. "He said he appreciated how hard it must have been for her to reach out, but he's fiercely protective of Mila right now and doesn't want any drama around her. Demi thinks he's being a jerk because he's ignored messages from his former stepdaughter Rumer Willis too." But, the source adds, Ashton is ready to cut ties for good: "He wants to erase that part of his life. It's all about Mila and their baby now. He won't even chance making her upset, because she is already so stressed."
Would you be this stressed if you were Mila and Ashton? Share in the comments or tweet us @OKMagazine.