Archive
Teresa Giudice Talks Resentment Towards Joe On WWHL: 'I Don't Think He Meant To Hurt Me'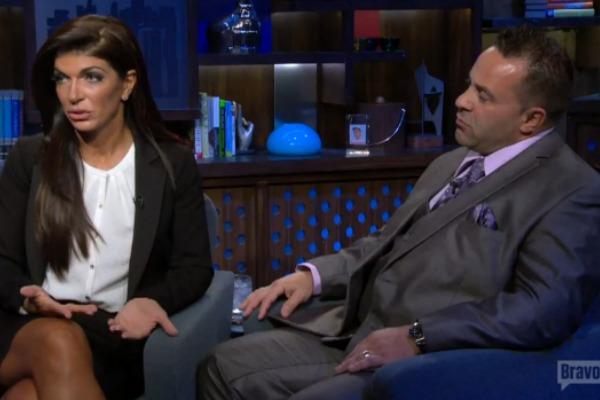 In Teresa and Joe Giudice's first interview since their prison sentencing, Andy Cohen asked the Real Housewives of New Jersey stars everything from their reactions to the sentence, to their decision to accept a guilty plea deal.
But on tonight's Watch What Happens Live, Andy asks the jail-bound couple more hard-hitting questions involving Joe's alcohol abuse and if Teresa resents her husband.
Andy asks Joe, who is sentenced to 41 months, to tell him about his attorney's claim that Joe has a drinking problem.
Article continues below advertisement
Guilty Giudice! Teresa, Joe And Other Real Housewives Stars With Criminal Pasts!
"Before you started this Real Housewives stuff, I think I used to drink only on the weekends now I drink everyday," Joe explained. "I could easily do two, three bottles, four bottles easily with another person. Sometimes two by myself, easily."
In the second clip, Cohen asks the couple about their relationship, and if Teresa resents her husband.
Andy also asked the couple about their fear of Joe being deported to Italy upon completion of his sentencing.
"I'm going to worry about that when the time comes," he said.
Watch What Happens Live's One-On-One with Teresa and Joe Part 2 airs tonight at 9/8c on Bravo. What do you think of the clips? Sound off in the comments below or tweet us @OKmagazine.