BABIES
Ashlee's Dog Danger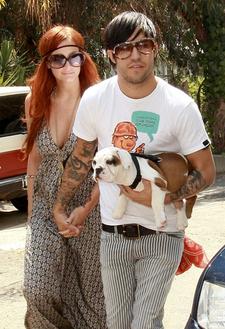 Pete Wentz and wife Ashlee Simpson-Wentz are determined to keep their 5-week-old baby, Bronx Mowgli, out of the spotlight (although proud dad Pete announced on Dec. 12, "There will be a time when we'll share him.").
But different rules apply for their other children — the couple's two English bulldogs!
Ashlee and her Fall Out Boy bassist husband were concerned their 3-year-old bulldog, Hemingway — ring bearer at their May 17 wedding — was becoming aggressive after they brought bulldog puppy Rigby home ahead of Bronx's Nov. 20 birth.
Article continues below advertisement
A worried Ashlee, 24, and 29-year-old Pete called in Cesar Millan of Dog Whisperer (in an episode airing on the National Geographic Channel on Dec. 28) for help!
"Whenever I would see him around other dogs, he's aggressive," says Ashlee.
Pete adds, "I don't ever want a situation between Hemingway and the baby."
"I hope they take into consideration the information I've shared with them," says canine expert Cesar, 39, "because they have a really easy case."
We're sure it'll all work out well. With a middle name like Mowgli, you'd think their boy would have no trouble at all getting on with animals!