BABIES
Ashlee's Rockin' New Bod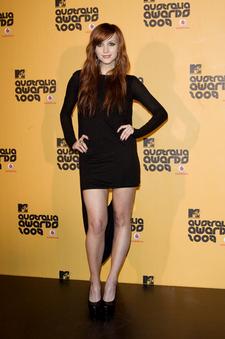 Following in her big sis Jessica Simpon's footsteps, Ashlee Simpson-Wentz wowed fans with her smoking new body on March 27. After dropping 25 pounds of baby weight, Ashlee, 24, rocked a chic minidress at the MTV Australia Awards.
Her secret? Kickboxing and circuit training!
"She's a dancer naturally, so she's used to moving around," Ramona Braganza, Ashlee's trainer and a fan of the newly launched vitaminwater10, which she recommended to Ashlee, tells OK!.
Article continues below advertisement
"Depending on how quickly you progress I move it along," Braganza says of Ashlee's plan to banish the baby weight. "With Ashlee I think by January we were pretty much in my second phase of it, and doing really well. Then, I added some kickboxing in, and we did stairs in the house. Some different ways of doing cardio so it wasn't boring in the gym everyday."
Braganza adds that vitmain10 helps because it's a flavorful alternative to hydrating with water, and new moms can get their vitamins from flavors like multi-V, a lemonade flavor.
When it comes to her food, however, Braganaza just advised Ashlee to eat her faves in moderation.
"She's from Texas. I'm from India, and if I ate Indian food all the time, I'd have the same problem," she explains. "It's having certain foods in moderation, and sticking to lean, and clean meals."