BABIES
Beckham Dead Set On Leaving America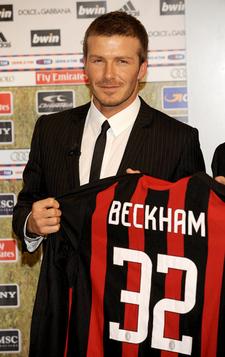 It looks like it's time for Victoria Beckham to start packing her Louis Vuitton bags.
Her husband, David, has said that he wants to stay on in Italy permanently -- and he doesn't care how much it costs.
The soccer superstar -- on loan from LA Galaxy to AC Milan during the off-season -- told an Italian radio station that his time in Europe has allowed him to "rediscover himself as a football player."
Article continues below advertisement
He also thinks moving to Milan would give him his best chance of regaining a place on the English national soccer team, according to NBC Sports.
Nearly two years ago, Becks signed a $32.5million contract to play for the MLS team for 5 years.
But Galaxy has performed poorly for the past two seasons, and failed to make the post-season in 2008.
In contrast, David has scored goals in two of his five matches since playing in Italy over the winter, and has been one of the coaches' first picks to play in all the games.
CLICK HERE for dozens of great pictures of David and Victoria Beckham!
"At the moment, Milan is more important than money. I want to think about football before everything else," he said on the Friday edition of Corriere dello Sport show.
"I said in a clear manner what I think, I want to stay at Milan because I've rediscovered myself as a football player."
"I was expecting to do well at Milan," he added. "But I was never expecting to enjoy myself this much."
It seems that Becks has changed his tune a little since he came to America. Back in 2007, when he first arrived with his family, he seemed on a crusade to raise the profile of soccer in the States.
"The main thing for me is to improve the soccer, to improve the standard," he said, "and to be part of history really because I think soccer can be a lot bigger in the U.S."