BABIES
Brad: Most Proud of Parenthood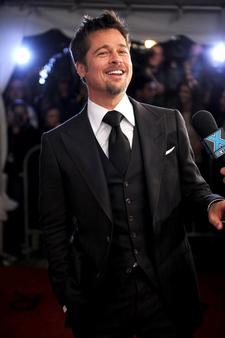 Despite late nights, dog duty and the constant attention of the paparazzi, Brad Pitt says he and partner Angelina Jolie will probably do it all over again with more children.
"We really enjoy it," he told Oprah Winfrey today of raising Maddox, Pax, Zahara, Shiloh, Knox and Vivienne. " It's the greatest endeavor we've ever taken on, and it's the most interseting and most fulfilling, most rewarding thing I've ever experienced and why should it stop?"
Article continues below advertisement
CLICK HERE for OK!'s Ultimate Brangelina gallery!
One thing any new addition to the Jolie-Pitt family will have to get used to is the snapping of cameras as the high-profile family is followed by photographers almost constantly, something Brad says they try to cope with as best they can.
"We try to explain to them, 'Yeah, people, they're a little funny. They kind of like taking pictures and they're a little weird but it's alright.' And like our little one said, "Actually, Daddy, it's not alright."
No matter how the cameras might get to the kids, The Curious Case of Benjamin Button actor says he and Angie do what they can to do proivde a normal life.
"They have their friends and we try to keep as much normalcy as we can and do things together as a family," he reveals. "We keep everyone together and that's our rule."
Brad also let fans in on some funny moments with the kids, sharing a story of when Zahara – known as Z.Z. – had something for her dad to investigate.
"Yesterday Z.Z. goes, 'Daddy, smell,' " he describes, holding out his hand. "And I go, 'What, honey?' She goes, 'Smell.' I go, 'What is that?' and she goes, 'Dog poop. ' "
As for what Brad would like to do if he could be unrecognizable for a day, his wish is simple:"I would like to tear down my fences. I'd like to tear down my gate, I'd like to be able to see my neighbors. I'dlike my kids to be able to run in each other's yards and their yards and our yards and wave at everybody."