BABIES
Brad's Boys' Day Out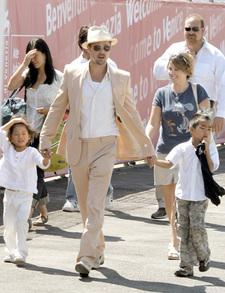 With mom Angelina Jolie busy shooting scenes uptown in Washington Heights, her two older sons, Maddox and Pax, enjoyed a boys-only lunch with proud pop Brad Pitt at one of their favorite Manhattan restaurants on Friday afternoon.
Of course, the boys being boys, their favorite restaurant isn't some 4-star, $150 a plate celebrity haunt, but alien-themed tourist fave Mars 2112.
According to restaurant insiders, Brad called ahead to arrange a VIP table for him and his sons. And the A-lister definitely got that VIP treatment from the staff. "Waiters were squabbling over who got to serve them," one witness tells OK!. "I overheard one of them complaining to a co-worker, 'It was my turn to wait on Brad!'"
Article continues below advertisement
But perhaps that's because the last time Brad brought his brood to Mars 2112, he dropped a $100 tip on a $45 check!
MORE BRAD PICS:
Diners at the restaurant tell OK! that the two boys — and their kid-at-heart father — certainly had a good time in the restaurant's arcade area, where they're regulars when staying in NYC.
"A lot of times, they just go straight to the game room," one insider tells OK!. "They love the video games." And on Friday, they were loving Crazy Taxi, Tekken 5 and Madden Season 2 in particular. One diner says that Brad even played a few games by himself while his sons worked out their excess energy.
Maddox and Pax also got their photos taken with a few of the Mars 2112 staff who stroll the floor of the restaurant dressed in full alien costume. "They seemed really into the whole alien thing," a witness says.
Brad even made one boy's day when he crashed a group of youngsters having a birthday party.
"He just went over to these little boys and asked, 'Is it someone's birthday?'" the witness recalls. "One of the kids pointed to his friend and said, 'It's his.' Brad smiled and said, 'Happy birthday, man!' to the boy, and before he left he handed him a gift card loaded with credits to play games."
Those lucky enough to sit within earshot of Brad's table tell OK! that he calls Pax "Paxie" and Maddox, "Mad." Meanwhile, "they just call him 'dad.' It's really sweet."
At one point during lunch, witnesses tell OK! that Maddox got up from his seat to go around the table for a hug with his dad. "He wrapped his arms around Brad's shoulders and pressed his face to Brad's cheek. Absolutely adorable!"