BABIES
Brangelina's Kid-Free Night Out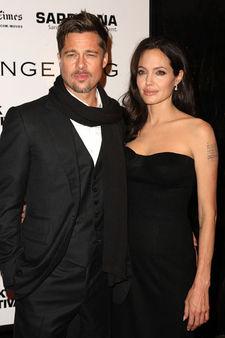 Brad Pitt and Angelina Jolie leave their six tots with nannies during the New York Film Festival premiere of Changeling held at NYC's Ziegfeld Theater. Since it's parents' night out, Brad gets frisky in front of photographers, resting his hand on Angelina's backside. Cheeky!
The mystery, which is in theaters October 31, places Brad's babe in the role of a mother whose son is kidnapped. Scary!
"I'm off tonight," Brad tells me as he waves on his way into the theater. The handsome dad lets Angelina bask in the spotlight solo during her first public appearance since giving birth to twins Knox and Vivienne in July.
Article continues below advertisement
And here comes supermom Angelina, who thanks me for telling her she looks amazing when I ask her the secret to losing the baby weight. No surprise -- she is so beautiful in person. Otherworldly! But she's also very friendly, open and relatable. Indeed, she's much more glammed up tonight than she was last year during interviews for A Mighty Heart. Stunning! After my joyous experience with Jennifer Aniston, I must say: Brad can pick 'em!
What was it like for this mom-of-the-year to play a role in which her son is kidnapped?
"The reason I didn't want to do the film for a long time when I read it was that I wanted to keep it as far away from me as possible," Angelina says. "Everyday that I came home, I was so clingy to my kids. I think I bugged them. I was grabbing them and checking them in the middle of the night. It scared me."
Clint Eastwood calls Angelina a "terrific" actress, and Michael Kelly calls Oscar buzz for Angelina in this role "well-deserved."
Article continues below advertisement
What surprised costar and 2008 Oscar nominee Amy Ryan about Angelina?
"She is very present, very gracious and open and can talk to everybody and anybody," Amy tells me. "That's a beautiful quality – to be present."
Since this film is about kidnapping, what celeb would Sarah Paulson most want to kidnap her?
"Ellen DeGeneres," Sarah tells me. "I feel like while she was torturing me, she'd make me laugh. There's nothing better in life than laughing. She'd maybe dance goofily or greatly, whatever it is that she does."
Changeling is in theaters October 31.
And check out the OK! on newsstands now for Angelina's secret to losing the baby weight. Jamie Lynn Spears/"Casey Breaks His Silence … 'I'm No Cheater'" is the cover line, and the premiere story "Brad Loves Angie's New Curves" is a cover chip. Woo-hoo!