BABIES
Elisabeth Returns to The View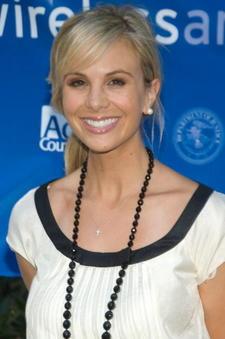 The View's first new show in 2008 marked the return of controversial co-host Elisabeth Hasselbeck, who's been on maternity leave since last October.
The 30-year-old TV personality, who gave birth to her second child, Taylor, on Nov. 9, also brought her new son on air to introduce him to the audience!
Taylor stayed perfectly quiet nestled in his mom's arms as she chatted with fellow co-hosts, Whoopi Goldberg, Joy Behar and Sherri Shephard about her family's newest addition and how her husband, Arizona Cardinals QB Tim Hasselbeck, makes a great Mr. Mom.
Article continues below advertisement
"You name it, he does it. He'll change diapers," Elisabeth told OK! after the live broadcast. "He takes Gracie out on daddy-daughter dates. They'll go get ice-cream or root beer floats. He really knows how to make a child feel special."
Gracie is slipping into her role as big sister quite nicely, according to Elisabeth. "When she wakes up in the middle of the night. She'll say, 'Taylor, come here,'" Elisabeth shared with OK!. "She wants to see him first thing in the morning, she wants to kiss him good night. She just loves him. It's a blessing."
Though she just gave birth two months ago, Elisabeth looked slim and trim in a sleeveless sheath.
"Prints, they camflouge everything," she shared on air. After the broadcast, Elisabeth revealed to OK! that there are no plans in place to celebrate Taylor 2-month birthday this Thursday. "He's the second child. We won't do anything special like that," she joked.
By Delaina Dixon
For even more on your favorite shows and TV stars, check out Delaina's — only on OK!